Introducing Esme
March 8, 2021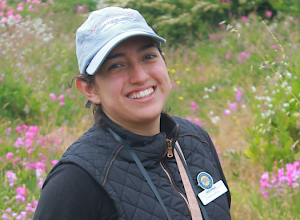 Esme Plascencia grew up in Fort Bragg and has been drawn toward exploring the great outdoors as long as she can remember. Close to home, she enjoyed walking to Wiggly Giggly playground and park. She loved opportunities to explore the lake and beach at MacKerricher State Park on family outings. Esme fondly remembers family picnics on the beach, wading in the water, and going on walks.
Now a college student at Sacramento State, Esme has been working with the Mendocino Land Trust, MendoParks and the Mendocino Woodlands Association on ways to better engage the local Latino community in the great outdoors. Esme's internship with the Mendocino Land Trust is funded by the DeLucia Family Fund, a donor advised fund through the Mendocino County Community Foundation.
We are excited to announce that Esme has founded a chapter of Latino Outdoors based in Fort Bragg! Esme would love to connect with other members of the Latino community who might be interested in leading hikes and programs or serving as a "social media ambassador" for the local Latino Outdoors chapter. Those interested in helping – or interested in finding out about events when they are scheduled – can contact Esme by emailing e.plascencia@latinooutdoors.org.
If you would like to meet Esme in person, please come to an informal "meet and greet" at the historic Ford House on Main Street in Mendocino on Saturday, March 20. Esme will have a table set up outside the building from 11 a.m. to 2 p.m. Please remember to wear a mask and practice social distancing.
Ford House address: 45035 Main Street, Mendocino
See the Facebook Event Page here.
Esme has a wealth of information and enthusiasm to share, as well as fun activities for families available in both English and Spanish. This includes a BINGO game (Be In Nature, Get Outside / Bella, Increible, Naturaleza, Ganas, Oportunidad) developed by Esme and the Mendocino Land Trust. Bingo cards are also downloadable here: English / Espanol
You can learn more about Esme in a "Yo Cuento" post she wrote for the Latino Outdoors website: https://latinooutdoors.org/2021/02/a-change-in-perspective/
Also, you may enjoy this fun video by MendoParks featuring Esme!