Teamwork with Redwood Coast Land Conservancy Preserves Gateway to the Gualala River
March 4, 2021
We are delighted to hear from our friends at the Redwood Coast Land Conservancy (RCLC) that they have reached a major milestone in the conservation of Mill Bend! On January 29, they closed escrow on the Mill Bend property – a 113-acre site at the mouth of the Gualala River. This estuarine area is home to sensitive habitats and endangered species including coho salmon and steelhead. In addition to providing critical habitat for these fish, the Gualala River estuary is home to Gualala roach and other fish species, as well as red-legged frogs, harbor seals, river otters, osprey and bald eagles.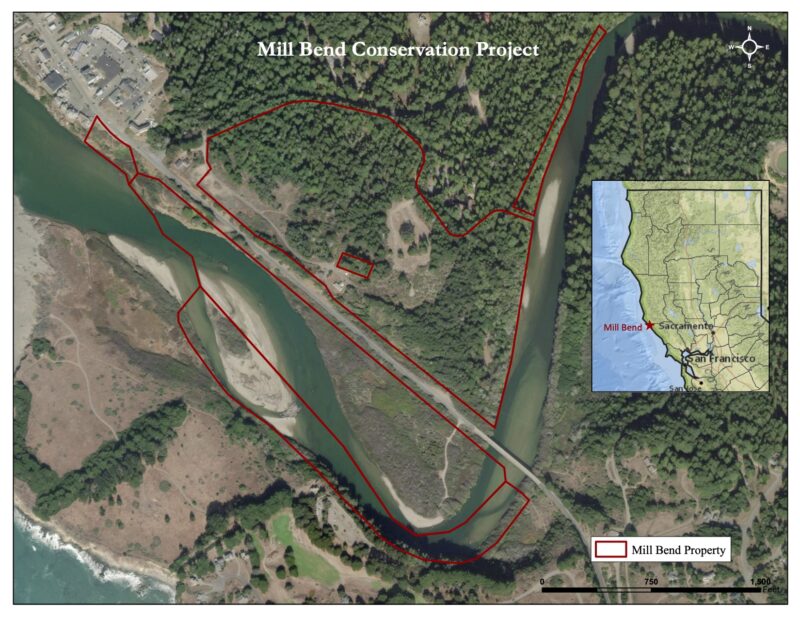 The Mendocino Land Trust was significantly involved in getting this project off the ground, working with its fellow land trust to secure grant funding to purchase the property from the Allemall Foundation (a conservation buyer which held the land until funding was received). Headed by Mendocino Land Trust Conservation Project Manager Nicolet Houtz, MLT staff and interns studied and mapped the types of wetlands and other habitats that could be protected with this project. MLT staff's extensive knowledge of funding sources and grant-writing expertise helped secure monies from the Environmental Enhancement and Mitigation Grant Program. Nicolet and her team provided data and maps that allowed the Coastal Conservancy to secure a sizable National Coastal Wetlands Conservation Grant (administered by U.S. Fish and Wildlife) to help fund the project. The Redwood Coast Land Conservancy paired these funds with generous donations from their supporters and succeeded in purchasing the property in early 2021.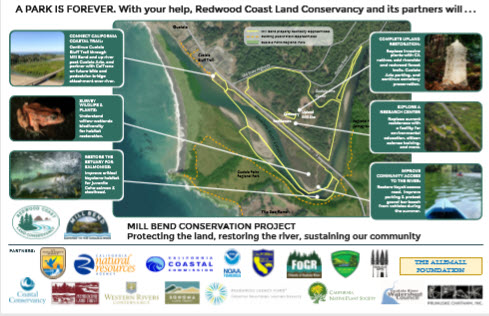 RCLC President Christina Batt says:
Completing this purchase is a huge milestone for us, and is the result of an amazing three-year community effort to acquire Mill Bend to make sure that it will be protected forever. We want to thank the Allemall Foundation, state and federal grant funders, the many local residents who contributed funds and volunteered their time, and the many organizations who partnered with us to help make this purchase happen.
Read all about the project and plans for these conserved lands on the Redwood Coast Land Conservancy's website: https://www.rclc.org/mill-bend/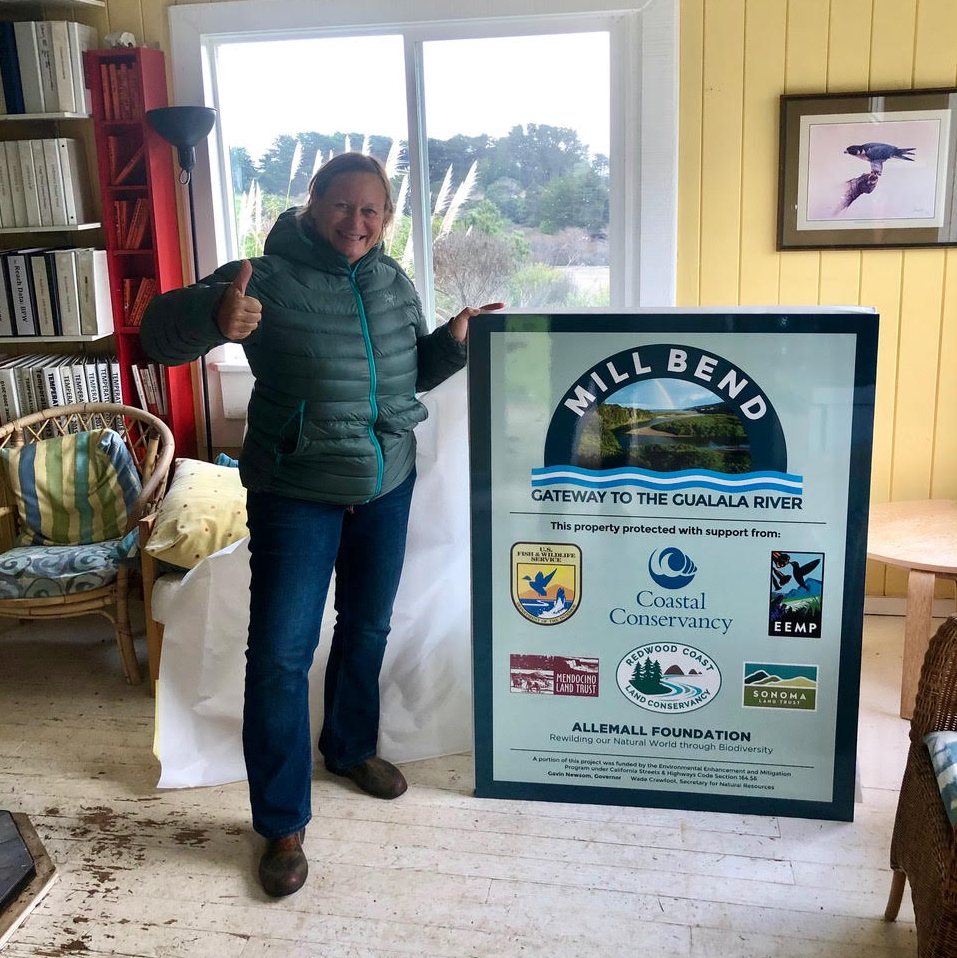 Kathleen Chasey, Mill Bend Project Manager poses with a sign that will be installed at Mill Bend.