Remembering Phyllis Curtis
August 2, 2021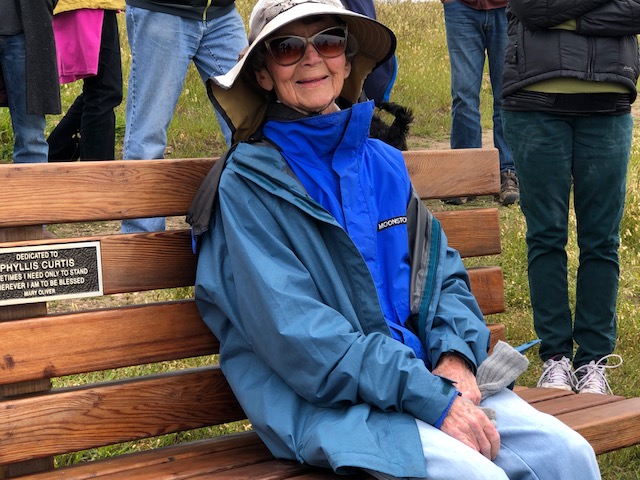 The Mendocino Land Trust and all of Mendocino County have lost a strong, passionate advocate with the recent passing of Phyllis Curtis. Phyllis was a founder of the Inland Mendocino County Land Trust and led our fellow land trust to many successes over the years.
Phyllis was inspired to create the IMCLT in 1997 after witnessing the enormous loss of agricultural lands and open space occurring in California. Her work focused on permanently conserving agricultural lands and natural environments in Mendocino County through easements.
Phyllis and her late husband Dr. Hugh Curtis were also loyal and generous supporters of the Mendocino Land Trust. While their primary residence was in Ukiah, they also owned what they referred to as "the cabin" directly on an ocean bluff just south of Little River. They both loved Mendocino County and backed up their affinity with generous support for the conservation mission of both Land Trusts. Phyllis was an early and strong supporter of MLT's successful efforts to get conservation easements on several significant sections of Ridgewood Ranch in the Willits area.
Phyllis was honored in May 2018 with the installation of a bench at MLT's Pelican Bluffs Preserve; the bench was donated by Jeff Trouette. Read about the surprise dedication ceremony here. Your day will be brightened by the expressions of joy on the faces of all in attendance as the then-94-year old Phyllis was honored.
Phyllis will be missed and well-remembered. Her legacy of conservation will live on.–
The above was written by MLT Board member Chet Anderson. Chet and his wife Sherri first met Phyllis and her husband Hugh in the early 1990s on a tennis court in San Bernardino. They developed a lasting friendship which eventually brought Chet and Sherri to the Mendocino Coast.
Read more about Phyllis's work here.
Phyllis's family is planning a Celebration of Life for August 28. Find more info here: http://www.eversolefs.com/1631/Phyllis-Curtis-Memorial