Phyllis Curtis Bench Dedication
May 24, 2018
On a slightly blustery day in early May of 2018, the Mendocino Land Trust surprised a local conservation leader with a special bench dedicated in her honor at Pelican Bluffs Preserve, just south of Point Arena.
The newly finished trail takes visitors up a rising coastal prairie, at the crest of the hill revealing the sweeping landscape of Pelican Bluffs. Phyllis Curtis, director of the all volunteer Inland Mendocino County Land Trust in Ukiah, had no idea what was waiting for her at the top of the trail, but it wasn't just the spectacular view that took her breath away. To her surprise, she was greeted by sight of friends and family who had gathered from near and far to celebrate the life and legacy of her tireless dedication to land conservation.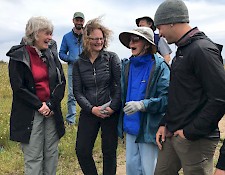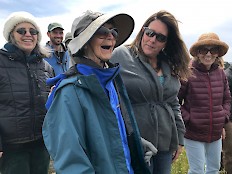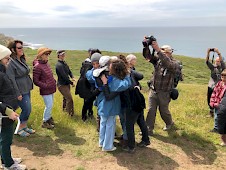 Land conservation and beautiful public spaces don't just happen on their own. It is thanks to the efforts of people who care very deeply that we are able to enjoy these beautiful vistas and preserve them for generations to come. Phyllis's bench will forever be a place for tired hikers, young and old, to rest their weary feet. Here, countless people will sit in quiet contemplation and drink in the natural beauty of Pelican Bluffs. The bench itself has a story to share, crafted with lumber from McKerricher State Beach by Jeff Trouette and Gary Burica.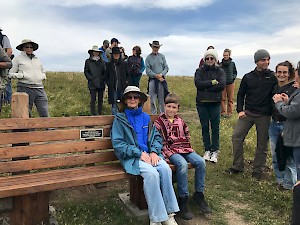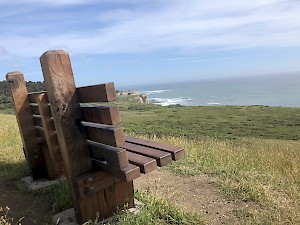 Every single one of our dedicated benches is special and honors the legacy of those who gave their all to preserve the wild heart of Mendocino County. It is the honor of the Mendocino Land Trust to protect these lands and preserve the memory of those who save them, forever.