Newport Trail Dedication
June 22, 2017
On a beautiful morning in May, a group of Mendocino Land Trust staff, board members, donors and partners gathered together to celebrate the re-dedication of the Newport Trail. This 1.2-mile long segment of the California Coastal Trail was completed in 2014 and runs parallel to Highway 1 along its entire length. A welcome respite to hikers and bikers traveling down the California coast, the trail's name was changed in 2015 from the Kibesillah Coastal Trail to the Newport Coastal Trail, to match the land's more accurate place name and that of the recently constructed Inn at Newport Ranch. In the summer of 2016, the trail was further developed with a parking lot near Highway 1 and a trail to a viewing platform near the bluff edge.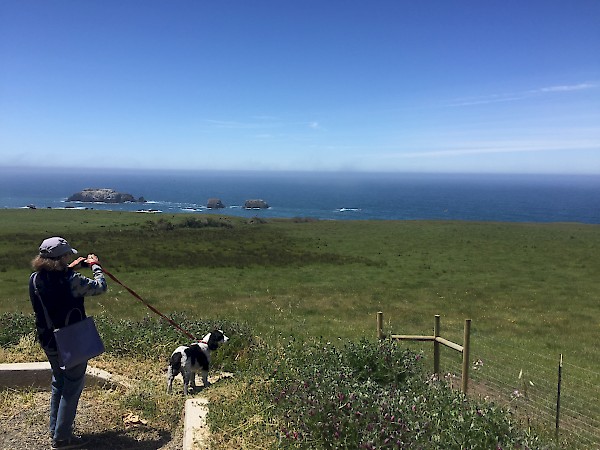 To celebrate the completion of the new viewing platform expansion, we gathered to re-dedicate the trail. We were honored to celebrate that day with John Ainsworth, Executive Director of the California Coastal Commission, and Linda Locklin, the Coastal Access Program Manager. We were also joined by the California Coastal Conservancy's Regional Manager, Karyn Gear, and Project Manager Peter Jarausch. Together, we celebrated our shared achievement of providing coastal access to a beautiful property for the public to enjoy.
The trail to the viewing platform is lush and green, and is fenced off from the black Angus cows that roam the Newport Ranch property. Down at the viewing platform, the group was delighted to be joined by two gray whales swimming just off the bluff, while a squadron of brown pelicans flew by. It was the perfect illustration of why this trail, and the new viewing platform, are wonderful assets to the California Coastal Trail, and a great place to go for a stroll, have a seat and watch the world go by.