New Bench Installed at Pelican Bluffs in honor of Conservation Hero Steve Miller
January 21, 2021
The secret is out… a BRAND NEW BENCH was recently installed at Pelican Bluffs Preserve.
This bench is dedicated to Steve Miller, a longtime supporter of the Mendocino Land Trust and a conservation hero. The bench was designed and built by Todd Sorenson, a local Fort Bragg woodworker. The building, installation and dedication of this bench was made possible thanks to generous donations from Cassie Henderson and Patty Bettega of Kennedy Real Estate.
Steve Miller has been a thinker and a doer in the conservation world for many years. He is an advocate for environmentally sound forest management and the potential of forests to help combat climate change. In 2015 he worked with the Mendocino Land Trust to protect 2,018 acres of working forestland he acquired in Mendocino County. Under the conservation easement, potential subdivision of the property into 12 parcels will be prohibited, and old-growth redwood and Douglas fir trees will be protected forever.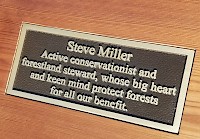 Wondering how to get to Steve Miller's bench? It's easy. You'll find the entrance to the Land Trust's Pelican Bluffs Preserve south of Point Area. Park in the parking lot and wander through the forest of Bishop Pines. When you reach the bluffs, take a left and head south down the trail easement. Near the end of the trail you will find the artistic bench with a gorgeous ocean view!