MLT Welcomes New Executive Director
August 19, 2020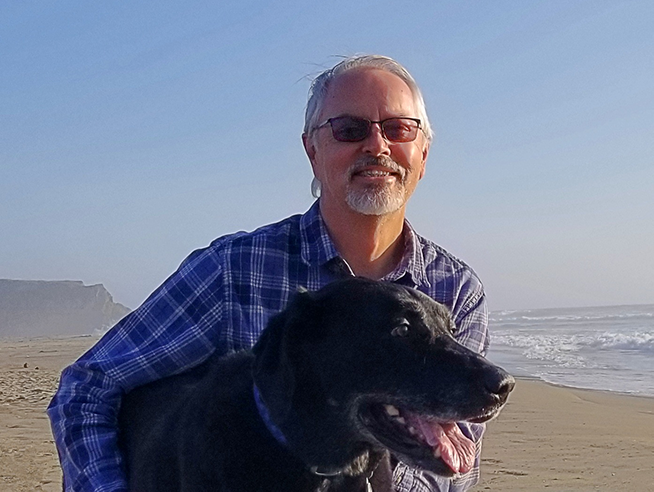 The Mendocino Land Trust is excited to announce the hiring of Conrad Kramer to the position of Executive Director. Conrad brings broad conservation experience to the Mendocino Land Trust team. He is enthusiastic for this opportunity to pursue his passion for land conservation amongst Mendocino County's beautiful landscapes and varied cultures. Conrad focuses on building broad support for and engagement with the conservation of unique and irreplaceable landscapes, habitats, working lands, rural communities and recreational opportunities. In his own words, "My passion for preserving these special places fuels my efforts to find broad solutions through which environmentalists, outdoor recreationalists, and economic interests can all benefit from participating in building and protecting a lasting legacy."
Conrad's background includes leading land trusts in the Greater Yellowstone Ecosystem, California's Colorado Desert, and the heartland of the United States. At the Teton Regional Land Trust in eastern Idaho, Conrad served as executive director working to conserve and protect critical wildlife habitat, prime agricultural lands, and important open spaces to maintain migratory pathways in the Greater Yellowstone Ecosystem and to support rural communities across the region.
He has also served as executive director of the Anza-Borrego Foundation (ABF), located in San Diego County's Anza-Borrego Desert State Park (ABDSP). At the ABF, Conrad worked to conserve and protect wildlife habitat and to support the recreational and educational mission of ABDSP. At nearly 1,000 square miles, ABDSP is the second largest state park in the continental United States and contains 80% of California's state designated wilderness.
Most recently, Conrad served as the executive director of Whiterock Conservancy, dedicated to protecting a 5,000-acre Iowan landscape, restoring native oak savannas and tallgrass prairies, demonstrating sustainable commercial agriculture, and providing outstanding outdoor recreation opportunities. Whiterock Conservancy is the third largest recreation area in Iowa.
As a consultant, Conrad has worked with the ecotourism industry, local guides, and traditional fishermen and women in Belize to protect Carribean mangrove islands and coral reefs and to support local fishers in their transition to sustainable artisanal fishing. He has also helped Native American tribes to regain access to their ancestral lands. Earlier in his career, he worked as a sustainable land-use advocate in Northwest Indiana, and founded a nonprofit which reforested private lands in Northcentral Indiana.
The son of an American diplomat, Conrad spent his early childhood in Central and South America before moving to roam the mountains of New Hampshire during his youth. He has also lived in Southwest Michigan and Northern Indiana where he completed his education. He holds a BS Degree in Public Affairs from Indiana University. Conrad's wife, Lisa, is an environmental scientist with California State Parks. They have two sons, recent college graduates, who also call California home.
Conrad will take the reins from Interim Executive Director Roger Sternberg, who has been a steady hand during a challenging and uncertain time for both the organization and the world. Roger was the organization's very first Executive Director in 1998, and the Mendocino Land Trust has been lucky to have him in its corner in a variety of capacities for the last two decades. Of his latest role at MLT, Roger observes, "It's been wonderful to see MLT's progress over the last twenty years: acquiring key lands for public access, conserving working forests and farmlands, and restoring critical salmonid habitat. Importantly, with a very dedicated and savvy board and staff, the organization is sound financially. I'm confident that Conrad will continue to build on these accomplishments."