Wildflower Wander at Navarro Point
THIS HIKE IS FULL. Please watch our newsletter for more guided hikes this summer! Email info@mendocinolandtrust.org to subscribe.
Join us for a wildflower wander at Navarro Point on May 23! How many different types of flowers will we find in bloom? Come and find out! This walk will be led by "Ranger Amy," current MLT employee and former naturalist. She's itching to hit the trail and share her love of plants with YOU! You'll learn to be on the lookout for "nature mysteries" in addition to wildflowers. Bring a sense of adventure, drinking water, lunch or some trail snacks and dress for the weather. The full adventure will probably last about two hours but you may come and go as you please. Bring a mask and be prepared to wear it when appropriate. Well-supervised children and leashed dogs are welcome — but be sure to stay away from steep bluffs! If you plan to attend, please drop an email to amy@mendocinolandtrust.org so we know how many people to expect.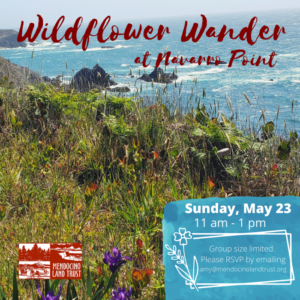 This will be a slow wander of about one-mile with lots of stops to look at flowers and take in the beautiful views.