CANCELLED: Gifts From The Oaks
This event has been CANCELLED due to a last-minute change in availability.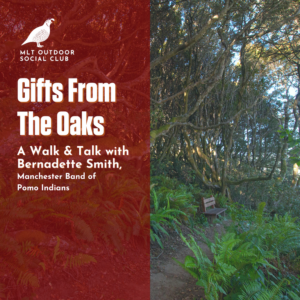 Join Bernadette Smith, a member of the Manchester Band of Pomo Indians, and the Mendocino Land Trust to learn about acorn as a traditional food source. Participants may get to watch a demonstration of one way to make acorn porridge and may even get to taste the results.  Afterwards, participants are welcome to join us on a half mile walk to appreciate a tan oak forest. Space is limited, RSVP is required.