How I Acquired a Forest
March 1, 2022
This inspiring essay and photos were submitted by a Land Trust supporter who asked to be identified as "RA."
I wince every time I see redwood forests cut down when I know their natural life cycle should reach more than 2,000 years. The giant, ancient trees growing in Mendocino County in the 1800s are largely gone, replaced by second and third-growth younger forests. What if we allowed more of those trees to grow back to their full potential?
When a real estate agent recently mentioned that a second-growth redwood forest of about 40 acres was coming on the market in the southern part of the county, I knew I had to go see it. The listing included a proposal put together by a forester that laid out the financial benefits of logging it. One could cut down the trees and earn a ridiculous amount of money. I sensed trouble ahead for this forest.
My spouse and I drove down a dirt road to view the property, dropping into a shady canyon with a seasonal creek surrounded by redwoods. We parked and explored. Sword ferns lined the streambed, and every square foot of earth where sunlight landed had something green growing on it: huckleberry bushes, rhododendrons, salal, mosses. We startled a deer, watched a banana slug inching along and listened for birds. A curious raven circled overhead keeping an eye on the humans below.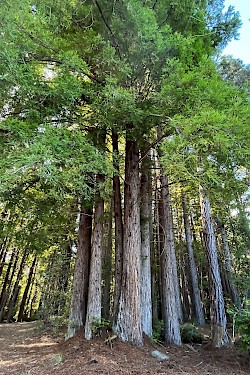 In the transition zone above the creek, alder trees were just dropping some leaves for the autumn. Giant redwood stumps dotted the forest from previous timber harvests more than a hundred years ago. The upper part of the property had a different group of trees: conifers such as bishop pine, grand fir, and Douglas fir. In spite of a very dry summer, everything looked green and moist due to the fog wafting up from the coast.
I came home with a mission to find a conservation buyer so that piece of forest could stay intact. Two weeks of contacting potential buyers led me to sympathetic forest-lovers but no one willing to purchase it. One day, the real estate agent called me and said an offer from a timber buyer had just come in, and they wanted a response within two days. The urgency increased.
Enter Mendocino Land Trust (MLT), which put me in touch with a woman who was a private conservation landowner. We had a long conversation, and she inspired me to be the conservation buyer myself. Gulp. Do I need a forest? Not really. Do I want to protect it? Absolutely.
Negotiations with the seller, who favored a buyer who would leave the trees standing, led to an arrangement where she offered to lend part of the purchase price on favorable terms. MLT offered to help with a conservation easement to protect the forest. Things were coming together. I submitted an offer, waited a nail-biting couple of days and finally received the call: "You got it!"
Now the work begins to clear two decaying structures from the property and familiarize myself with the unique features of this place. What lives here and how is it all related? As I explore and learn the names of the various species which call this place "home," I develop a new respect for the plants, animals, fungi and trees that dwell here, finding the resources they need to thrive.
Do I own a forest … or do I now belong to this community of living non-human beings? I'm beginning to understand the Native American concept of reciprocity. Forests provide for us in a multitude of ways, and now it's our turn to protect and steward them into the next century and beyond. Thank you to Mendocino Land Trust for timely assistance!
RA
The Mendocino Land Trust is thrilled to begin work with this new landowner, who has requested not to be named, to ensure that the forest she stepped forward to save is protected forever. We hope RA's story will inspire others to take action when they see a natural area in peril.
Learn more about conservation easements here.
Do you have a conservation story to share? Email us at info@mendocinolandtrust.org