Happy Trails to Monika!
July 2, 2021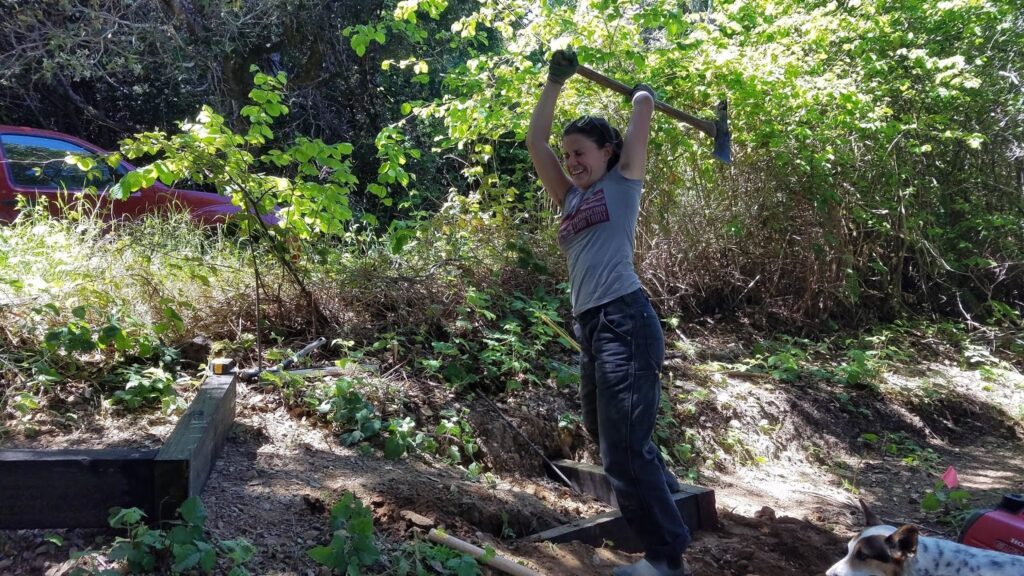 MLT is starting July with bittersweet feelings. Our fabulous Conservation Coordinator, Monika Richardson, is moving on. We are happy for her as she grows and explores other options but also not sure how we are going to fill her work boots!
Over the last year and a half, Monika has been the person who ensures our trails are in good condition. Monika was instrumental in readying the Old Smith Ranch preserve and trails for its public opening in July of 2020. Additionally, she worked with volunteers at Hare Creek, Navarro Point and Old Smith Ranch, helped plan and survey for upcoming trail projects, worked on our big recent land protection projects, and monitored conservation easements.
Starting a few weeks before the pandemic put a halt to everyday life, she watched as people found solace in open spaces and trails were used more than ever. She worked hard to make sure these places stayed beautiful and ready for use. Although many parts of life slowed down, conservation work continued, with Monika making maps and completing paperwork, documentation and grant applications from home instead of the office. She still made regular trips all over Mendocino County to check trails and monitor conservation easements, now with mask in hand – (or on face).
"Monika's bright personality made her a natural for this job," says Lawrence Turner, Mendocino Land Trust's Director of Conservation. "She's developed amazing rapport with both the team and the property owners throughout the county. I love how Monika can find the good in every situation,which frequently leads to creative solutions and excellent outcomes for everyone."
As things are opening up, Monika is again feeling the urge to travel and realizes she won't have the time to continue to give her all to the work of the Land Trust. We thank her for her contributions here and wish her well.
Keep reading for a short interview with Monika.
1) What has been your favorite part of the job?
My favorite part of the job has been volunteer days! Getting close with folks like Tom, Lenny, Elizabeth, Chuck and Art. Not having spent a lot of time on the North Coast before, it was amazing to get to know the coastline really well through monitoring and being a part of big conservation projects that will ensure that wild areas stay wild.
2) What skills did you learn or hone here that you know you will carry forward?
Nikki [Conservation Project Manager Nicolet Houtz] taught me so much about trail building, planning trail alignment, power tools, GIS mapping, preparing technical legal documents and baseline reports. I loved that I gained experience coordinating volunteers – I loved that – and became really passionate about it. I learned so much about local botany and wildlife. Learned what a conservation easement is!
3) Can you tell us about experiences during your work with MLT that you will always remember?
Getting to work up on the Lost Coast – even when I was doing hard work like weed-whipping trails, I was so thrilled to be there. I also loved going out with Larry [Turner] and doing conservation easement intakes – seeing places people love and helping them make sure those places are conserved. What a job!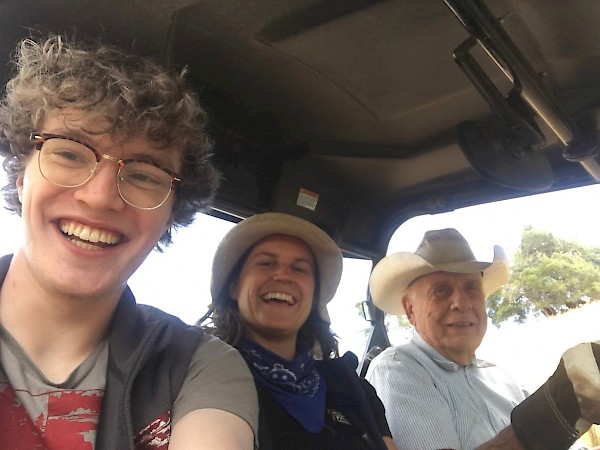 4) What's next for you?
I guess I'm having a bit of a quarter-life crisis! I'll be spending the rest of summer backpacking and doing some self-discovery. I am thinking about pursuing work in restorative ecology, regenerative agriculture, or working with a grassroots organization that incorporates social justice and environmental issues.
5) What else would you like to say about being at MLT?
All of the staff are really amazing. Despite there being a pandemic I felt very supported from the start.
Monika, you will be missed!