Anchor Academy
March 1, 2022
For a number of years, the Mendocino Land Trust has benefited from the help of Fort Bragg Unified's Anchor Academy. The Anchor Academy is an alternative school within Fort Bragg High School where service learning provides a viable alternative to the traditional classroom setting. Anchor Academy has partnered with Mendocino Land Trust since 2015, connecting students with the land and their community through stewardship.
During early months of the pandemic, volunteer activities were on hold. In fall 2021, Anchor Academy resumed volunteering with MLT. Twice a month, a dozen Anchor Academy students assist Ed Welter, MLT's Conservation Project Coordinator, with trail work and invasive plant removal. Students prune vegetation back from trails, repair boardwalk sections, and do other tasks to improve the condition of MLT trails and preserves.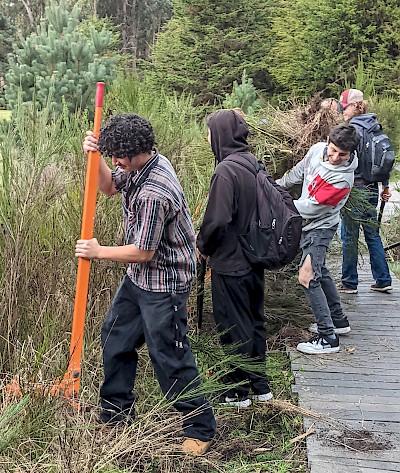 Teacher Tim Anderson explains why Anchor Academy exists: "This is a great program for students who benefit from breaking up the school day with activities that don't involve sitting in a classroom." Tim focuses on recruiting students who struggle during their freshman year. He would rather they join the Anchor Academy than risk dropping out or attending the continuation school.
Anderson and fellow teacher Katrina Tichinin work with a group of about 45 high-schoolers each year. Students spend about half their time on campus taking standard classes. They receive extra support in math, history and English as needed and also get to spend time each week connecting with the community. About a dozen students opt to assist MLT with stewardship work each month. Others choose to volunteer with organizations including the local food bank, humane society, botanical gardens, city of Fort Bragg or serve as teacher's aides in local elementary schools.
Anderson says one of the great things about doing projects with MLT is "the students get to be outside and do hands-on work …. they can put their extra energy to good use out on the trail." He especially likes invasive plant removal projects: "There is this instant gratification when you are pulling scotch broom, there's a whole mess of it at the beginning but then we work at it for an hour and bam, it's gone! It's pleasing to the eye."
"The Anchor Academy crew is a big help to us," says MLT's Welter. "We get a lot done together and try to have a little fun while we're at it – Tim [Anderson] helps a lot with that. It's great to give students a chance to be outdoors, getting exercise and using tools. And they're getting a strong connection to our local, public lands."
Anderson sees their work with MLT as an important contribution to the Fort Bragg community. "Hiking trails are part of what draw people here so keeping them clean and well-kept pays off in the long run," he says. "It's all about giving back to the community and meeting kids where they are at."
A big thank you to the Anchor Academy for all their work with MLT! Additional thanks to the Community Foundation of Mendocino County. Its Matthew Coleman Fund for Environmental Education and Conservation helps support MLT's work with the Anchor Academy. Matt Coleman was a much-loved employee of Mendocino Land Trust, who died tragically in 2011. He was committed to stewardship and we are sure he would be touched that a fund established in his memory is supporting this program.