Eco Artists 2022
February 1, 2022
Sale of Fine Art with Nature Theme Benefits MLT
We are delighted to announce that the Mendocino Eco Artists are having an art show benefiting the Mendocino Land Trust! Starting February 9, stop by the Stanford Inn to view amazing artwork along the theme Refresh, Restore, Regenerate. (Note: click the arrow on the edge of the banner photo above to see more of the art – or scroll down to the bottom of this page for a video slide show!
Works by the Eco Artists will remain on show for at least three or four months. As work sells, new pieces will be added. Artists in this show have pledged to donate at least 20% of the sale price of their pieces to MLT. Some artists donate 50% and some choose to donate the entire sale price of their art. We are incredibly honored and grateful that the Mendo Eco Artists have chosen to use their impressive talent to help raise funds for conservation in Mendocino County. Please stop by the Stanford Inn and become the proud owner of a one-of-a-kind work of art that reflects your love of Mendocino County and supports conservation goals.
This show includes art by: Maeve Croghan – oil painting, Debra Lennox – print making, Julie Higgins – pastel, Janis Porter – watercolor, Karen Bowers- mixed media, Paul Reiber – sculpture, Eleanor Harvey – pastel, MaryEllen Campbell – book arts and sculpture, Keith Middlesworth – neon sculpture, Cynthia Crocker Scott – acrylic painting, Bob Rhoades, – painting, Micaela Carr – oil and acrylic, Trish Orchard – oil painting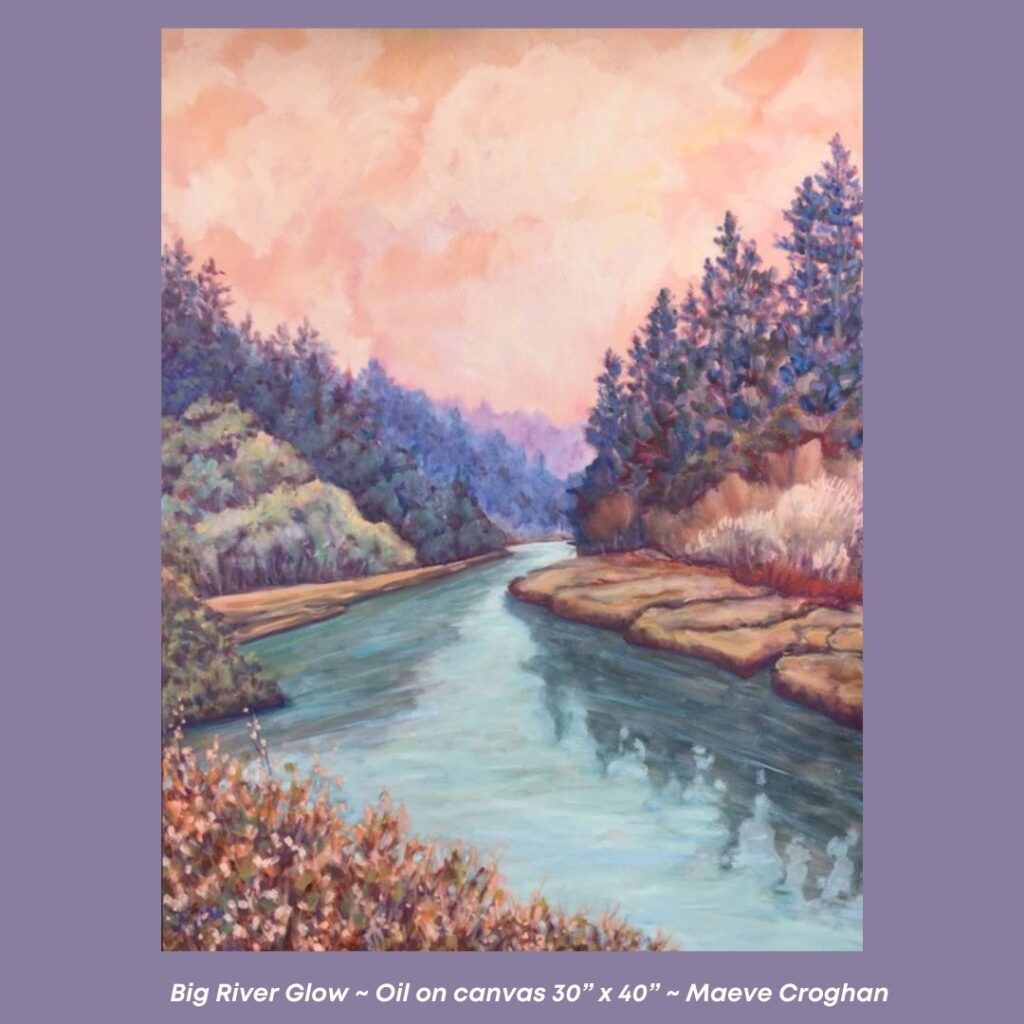 Although the show can be visited anytime the Stanford Inn is open, show organizer Maeve Croghan recommends visiting during daylight hours for best viewing of the art. You'll find about half the pieces in the bar / living room area and the remainder of the art displayed in the dining room.
If you have questions about the show, please email Maeve at maevecroghan@earthlink.net or call her at (231) 215-0399. The phone number for the Stanford Inn is (707) 937-5615 should you have questions about the venue or wish to make a dinner reservation.
More about the Mendocino Eco Artists:
The work of artists is to record, visualize and interpret what they see and experience – what inspires them. Their work puts them in an excellent position to illustrate the changes and threats to our natural world in a way that all viewers will understand, and to celebrate the beauty of a harmonious environment.
Mendocino Eco Artists are a group of artists who work together to promote conservation and restoration of the local environment. The group includes professional painters, sculptors, and photographers who live, work, and draw their creative inspiration from this beautiful place. They work as partners with local environmental groups, including MLT. They use their art to help increase public awareness of our region's challenges and to raise funds through sale of our artwork to help their conservation partners achieve their goals.
Those of us at the Land Trust are indebted to these artists in our community who focus their work on the appreciation of nature and have chosen to use their talents to support conservation of the natural areas in Mendocino County.