Content adapted from a presentation by MLT Executive Director, Conrad Kramer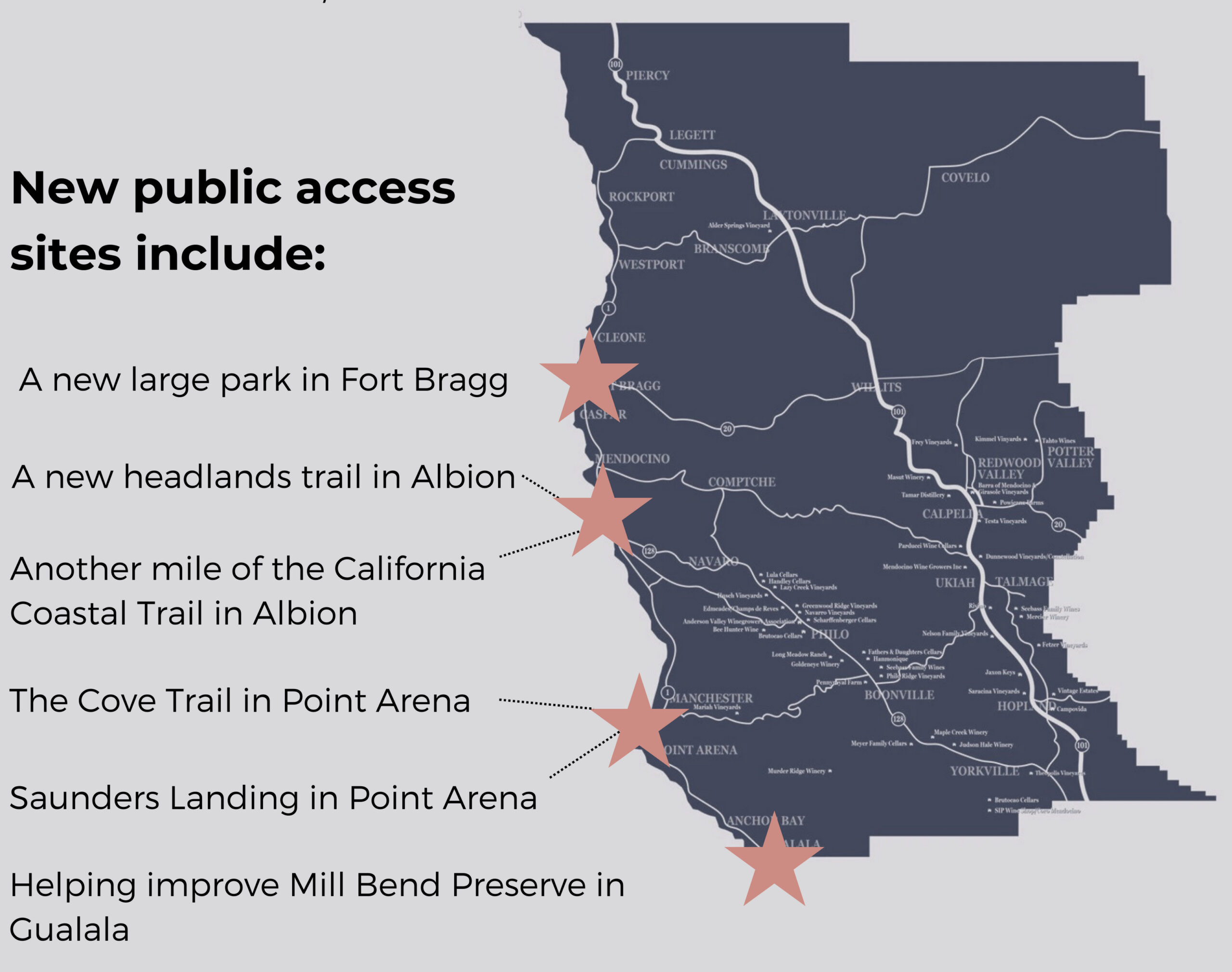 What's Next For MLT?
In this space, we will be sharing some exciting plans about where we're going–sites we will be adding that expand public access and offer new opportunities to the people of Mendocino County and our visitors.

Protecting public access to the coast involves long projects. It can take from three to five years to complete a project.

First, we have to secure an opportunity. Then we need to raise funds for the planning, permitting, and design of the restoration or public access work. And then we need to complete the planning, permitting, and design. Then we need to raise funds for implementation of the project. Then we need to do the restoration or public access work like building trails and parking lots and putting up signs.

If we are actually buying an acreage, it takes even longer, to raise that money.

If there is restoration involved, before public access is allowed, that takes longer too.

All this takes consistent and patient support, and we salute our supporters.

With that in mind, let's take a quick tour of our six projects.
---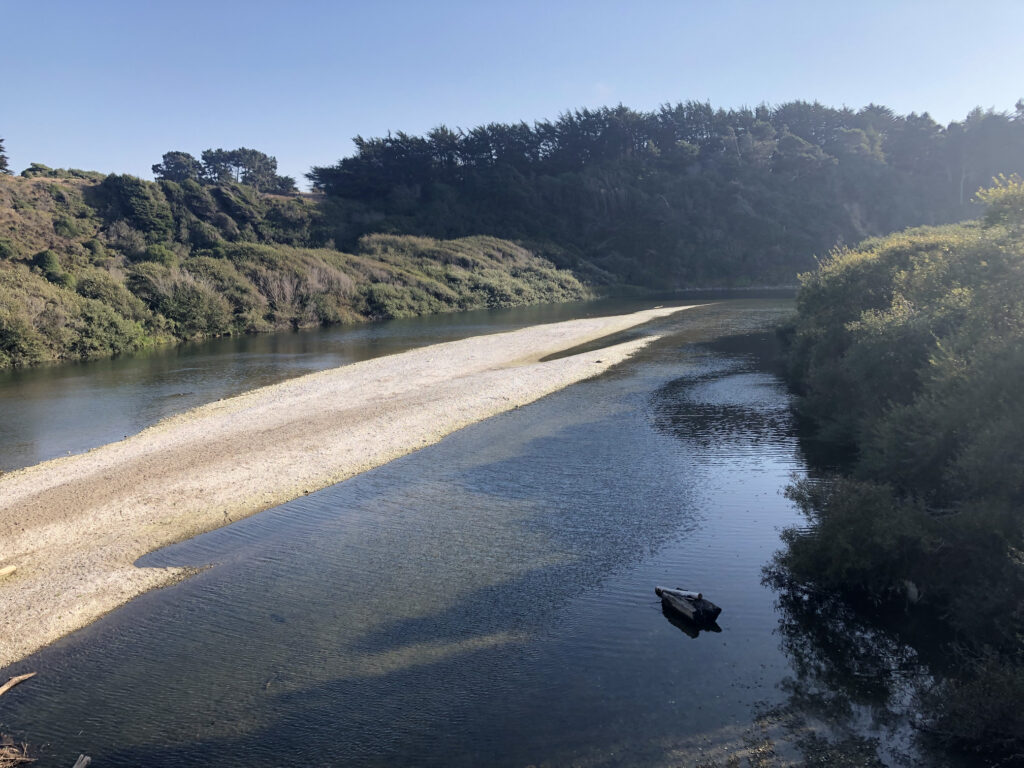 Mill Bend Preserve
Starting at the south end of the county, we are working with the Redwood Coast Land Conservancy, assisting them with the public access development and restoration of their Mill Bend Preserve in Gualala right at the mouth of the Gualala River, where the mill used to stand with all of its impacts.
Right now, we are assisting with fuels management on the preserve while we are seeking funding for the planning, permitting, and design of public access on the preserve. This will include a number of trails, some boardwalks, and the extension of the Bluff Trail in Gualala to Mill Bend. This will complete another link in the California Coastal Trail. We also are working on the planning, permitting, and design phase of work to restore the estuary fishery. So it's a really great project and we are very happy to be helping our friends at the Redwood Coast Land Conservancy with their great Mill Bend Preserve project.
If you haven't been down there for a while it's really worth it. Mill Bend is right next to the beautiful Art Center in Gualala. You could make a day of a visit down there.
---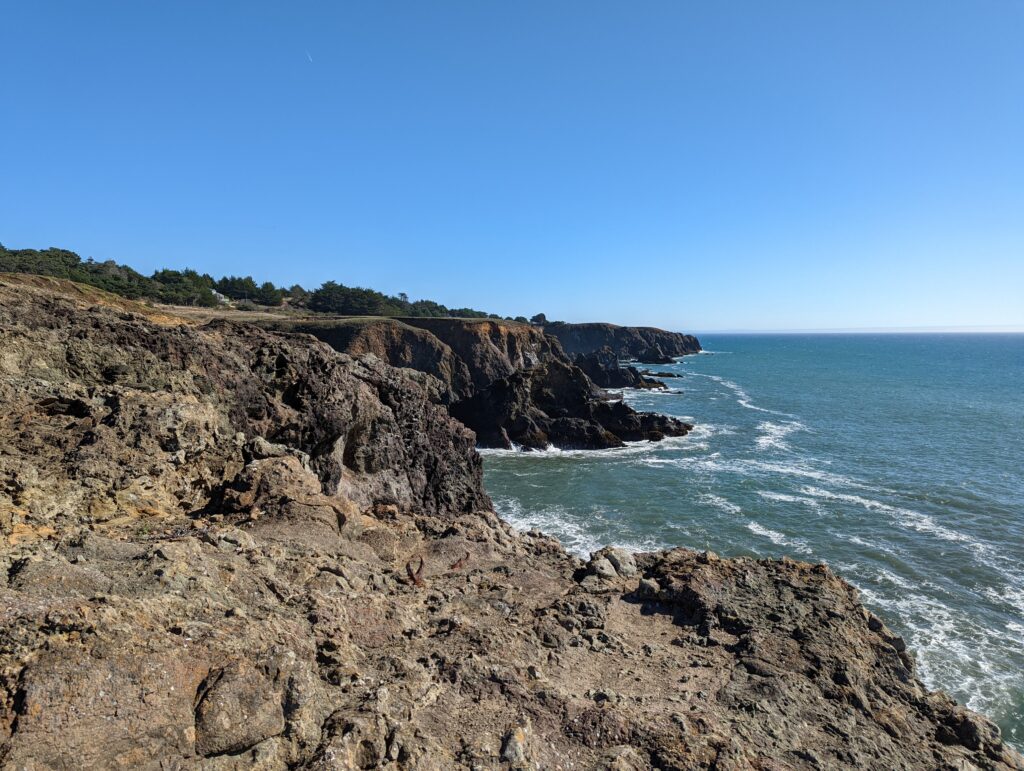 Saunders Landing
A little farther north, almost to Point Arena, MLT is acquiring 12 acres we are calling Saunders Landing, which allows for an important connection of the California Coastal Trail. With this acquisition and trail construction, we'll be starting at Hearn Gulch Beach, then running along the edge of the bluff, to a Caltrans vista point that connects to Schooner Gulch State Beach. So this is a really great missing puzzle piece of the California Coastal Trail. We already have the design, permitting, and planning funds, but the project requires restoration before the trail is built so public feet on the ground here is still three or four years out.
---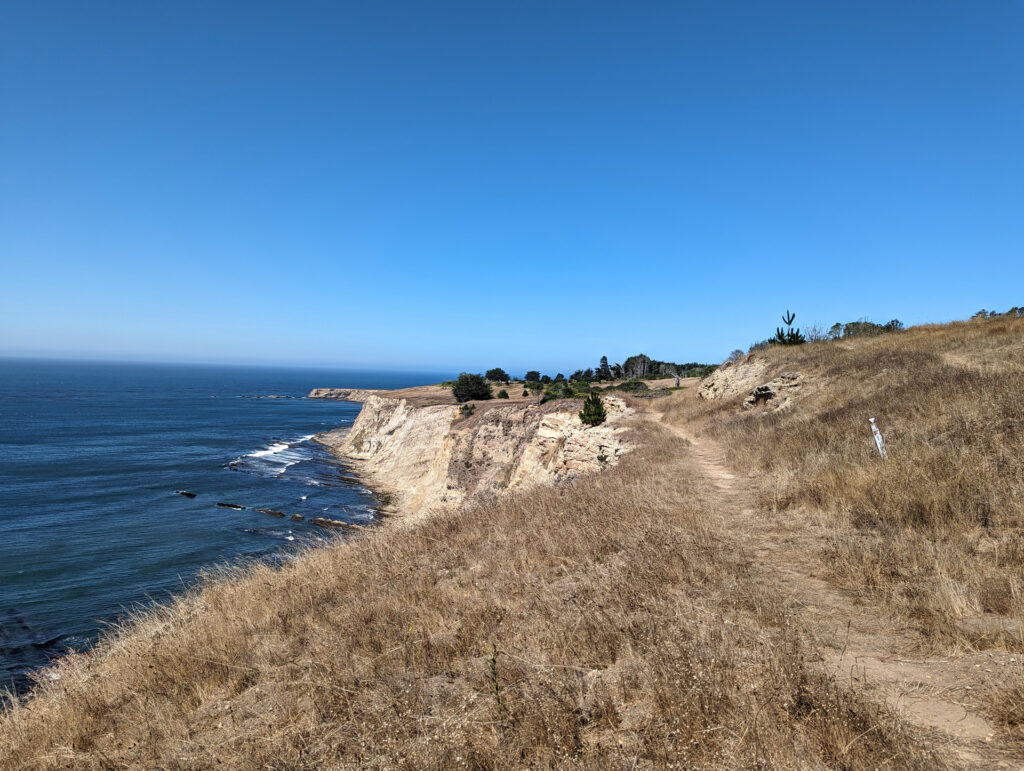 Point Arena Cove
In Point Arena, we are working to develop a short trail link so that people can walk between the Point Arena Cove and the trails of the Storneta Lands. What an ideal little connection!
This project is in the early phases so this lovely little link is still three or four years out. But look at the views here. Imagine stopping and plopping down to enjoy the view and take in the sun. This also is also a super fun place to explore at low tide.
---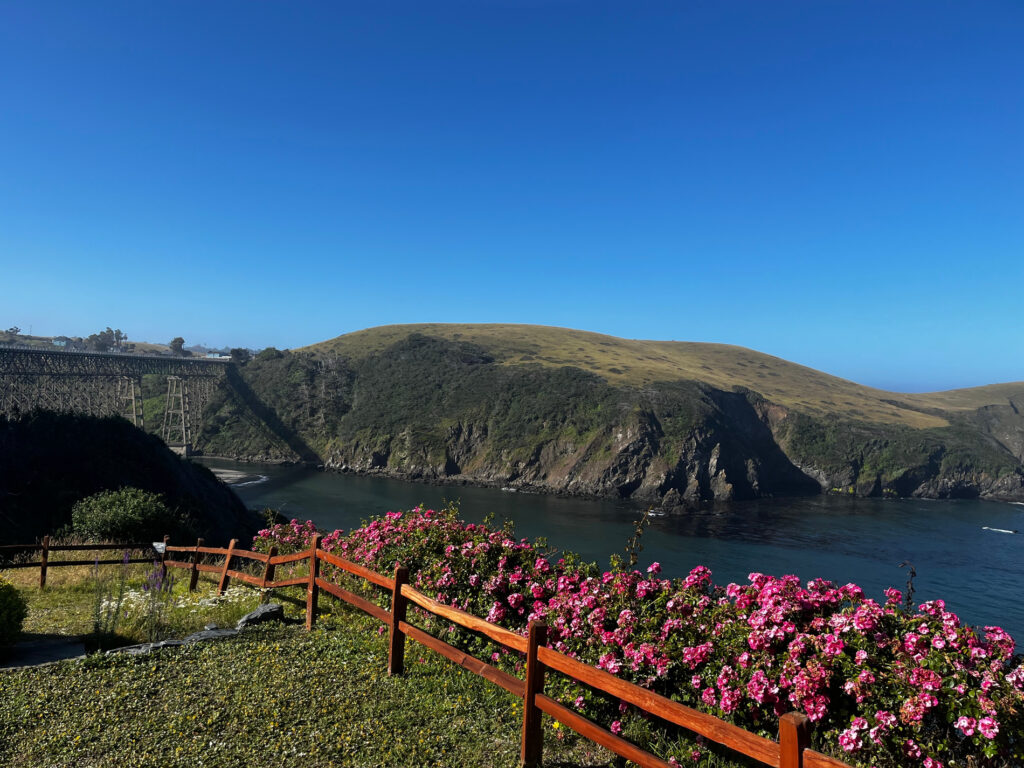 Coastal Trail Through Albion
Farther north, in Albion, we are developing over a mile of the coastal trail within the Caltrans right-of-way along Highway 1. It will start a little north of the bridge and run almost a mile south of it. The trail will be in the Caltrans right-of-way but off the shoulder of the highway where possible. This will be much nicer and safer for folks hiking or biking the Coastal Trail through Albion.
---
Albion Public-Access Easement
Also in Albion, we are developing a new public-access trail easement between private property parcels to give access to the spectacular bluffs and amazing views. This photo shows that view to the south, and imagine the sunsets. Better yet, this trail won't just get to the bluff but it will run along the bluffs for several hundred yards.
Both of these Albion projects are three or four years out.
---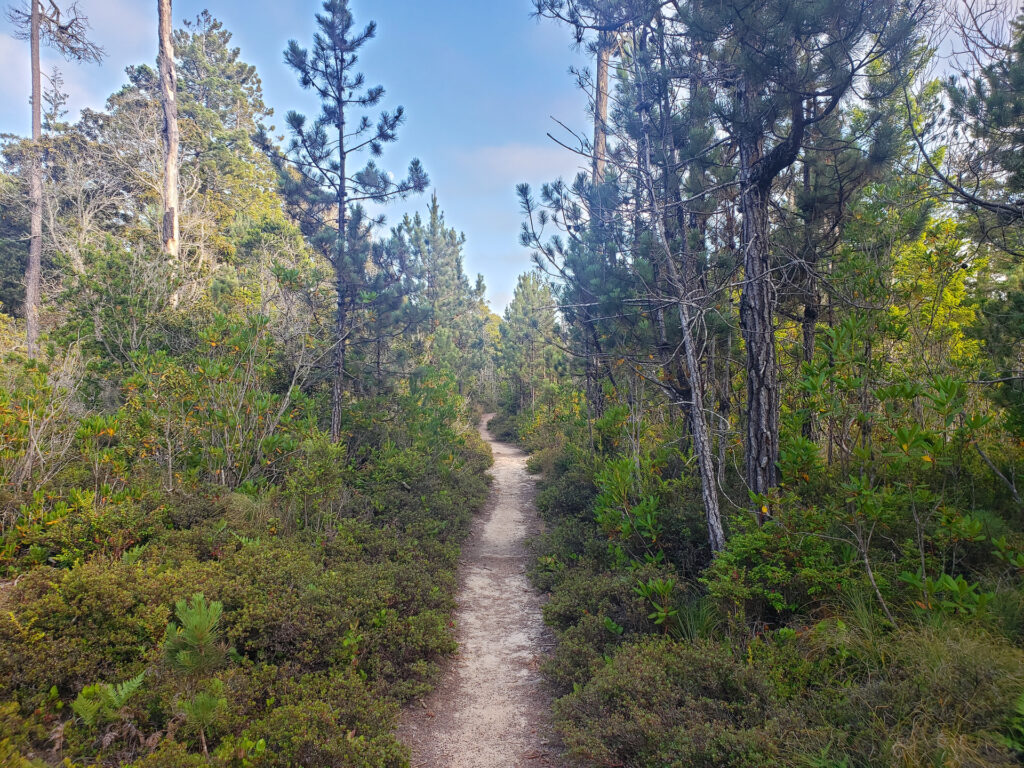 A New Park for Fort Bragg
Finally, for our biggest public access project on the coast, we are working with the City of Fort Bragg to develop the nearly 600 acres of pygmy forest they recently purchased from the Recreation District.
The park will be located off Highway 20, by the Humane Society. The city will use 30 acres to construct three small water storage reservoirs, and it will still take a while for them to choose these sites. Until this step is done, we will be limited in the work we can do to develop the site for public access.
The plan is for MLT to hold a conservation easement on most of the acreage. We will then take the lead in the public access and restoration planning and implementation. We also, in partnership with the city, will manage the new park surrounding the reservoirs.
We are starting right now to determine which of the many social trails will be prioritized and potentially raised on boardwalks to reduce impact. We'll also be deciding which trails should be decommissioned to create sanctuary areas to protect the most sensitive and rare species. We also have begun to identify areas for invasive species control and areas where dumped debris needs to be removed.
One of the most exciting aspects of this project is that we think we will be able to open an area of the project area to limited public access next summer. And yes, some effort is now being made to find a nice name for this new park.
When you explore the site you will see that only a third of the acreage is pygmy forest. The rest is transitional redwood.
It's going to be such a great park, especially for those windy days when an outing would be so much nicer if you could hike someplace a little more sheltered from the wind but still be close to town.
---
But Wait…. There's More!
So these are six public access projects on the coast we are excited to be working on right now for you!
But there's more.
We're thrilled to share with you three other exciting projects in the works.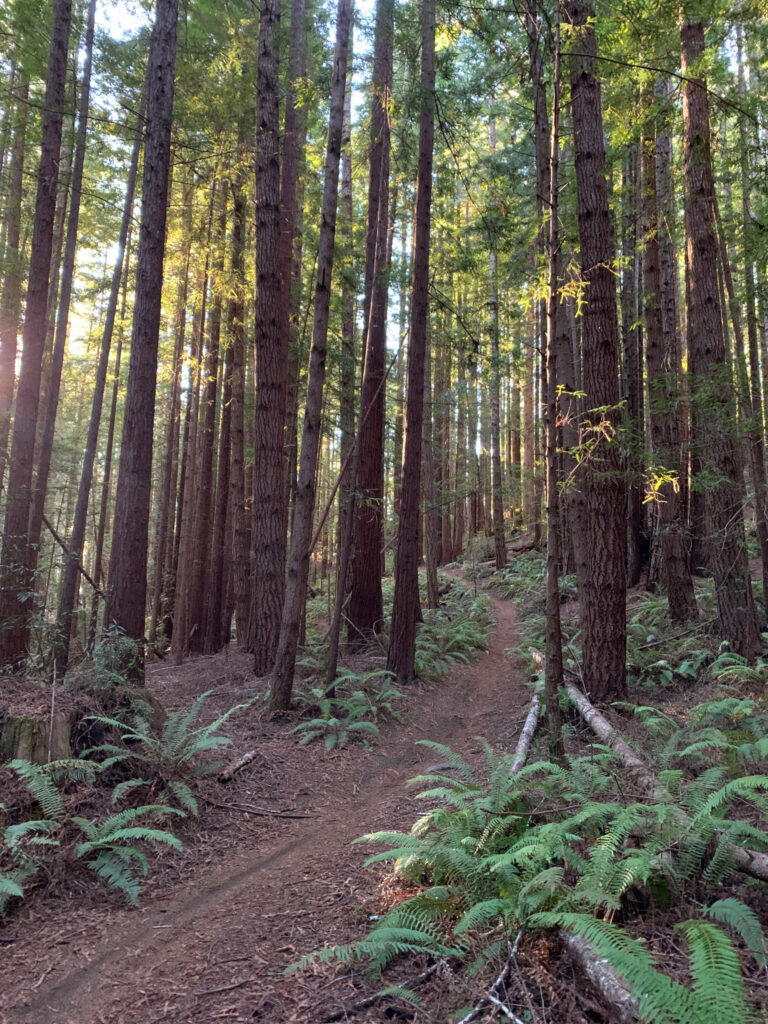 Protecting 16,000 More Acres
MLT and The Conservation Fund have been working for almost 12 months to have MLT take on protection of another 12,000 acres of working forests between Mendocino Headlands State Big-River Property and the Jackson Demonstration State Forest and 4,000 acres southeast of Albion. This land is owned by The Conservation Fund and their conservation values are protected by various state agencies.
Things always take longer than you think with state agencies but we are now just two- to four-months away from taking over the role of protector of these huge acreages.
This will bring the number of acres we protect to 35,000.
---
Behren's Silverspot Butterfly
Another project that we are very excited about is a partnership we have developed with the Bureau of Land Management and State Parks.
This partnership has just secured a $1.5 million grant to plant 53 acres of coastal terrace with hundreds of thousands of nectar plants and blue violets, the obligate larval plants of the federally endangered Behren's silverspot butterfly.
This butterfly's historical distribution once covered much of California's north coast, but it has been reduced to a single population on four spots on the Mendocino Coast. The butterfly's larvae feed solely on the blue violet, and a secure future for this butterfly is reliant on thriving populations of this plant.
With this funding, we will also be raising these butterflies in captivity to release in the areas. We are so excited to be working to help these little rare gems survive.
---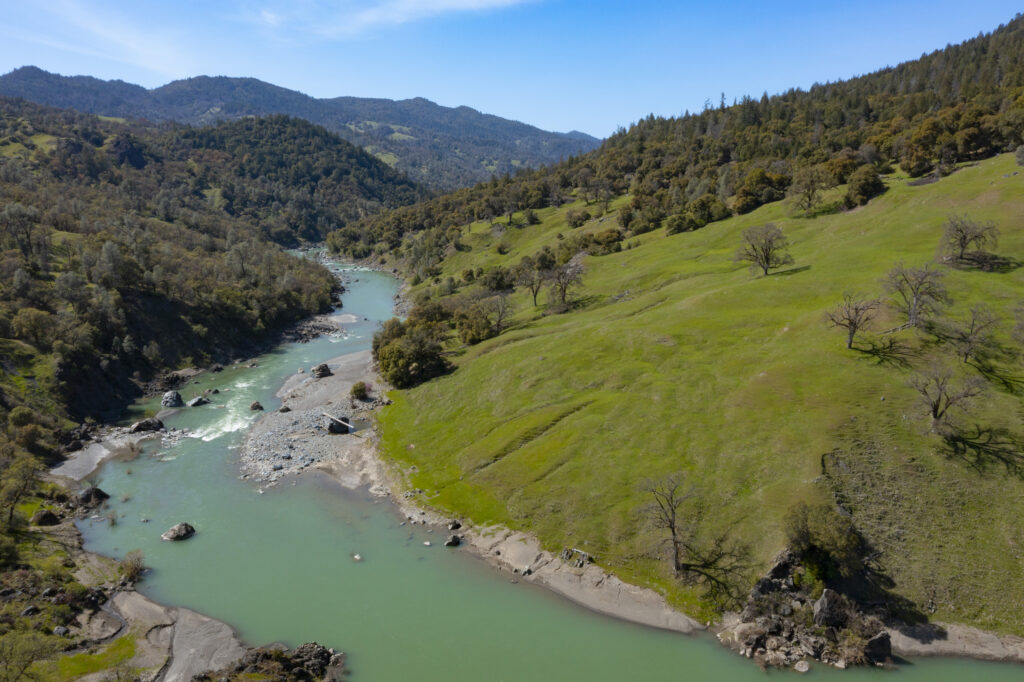 Folsom Ranch
Now you know that we are always working on land conservation and public access projects all over the county. Most of these projects are just a few hundred acres but we are thrilled about a very big land conservation and public access project inland, the scope of which we have not achieved since we led the partnership to acquire the Big River Estuary. We have been working diligently to build an amazing partnership to try to acquire the 7,000-acre Folsom Ranch, which is 25 minutes northeast of Willits on Hearst Willits Road.
The ranch is up for sale and our plan is to buy it to accomplish multiple goals. MLT wants to:
Protect it from being subdivided.
Pass two thirds of it to BLM to open it to multiple-use public access in a distressed area with very little public access.
Assist BLM to manage and restore the ranch.
Develop and manage the public access, as they won't take it without a local partner.
Return significant acreage to four local tribes.
The deal is not done yet but we are working very hard on this project and it is starting to look like we may be able to pull it off. The actual purchase of the ranch is the next big step and we'll be able to update you on that in just a few months.
Keep your fingers crossed for us!