Conservation Explained: Stewardship
June 20, 2023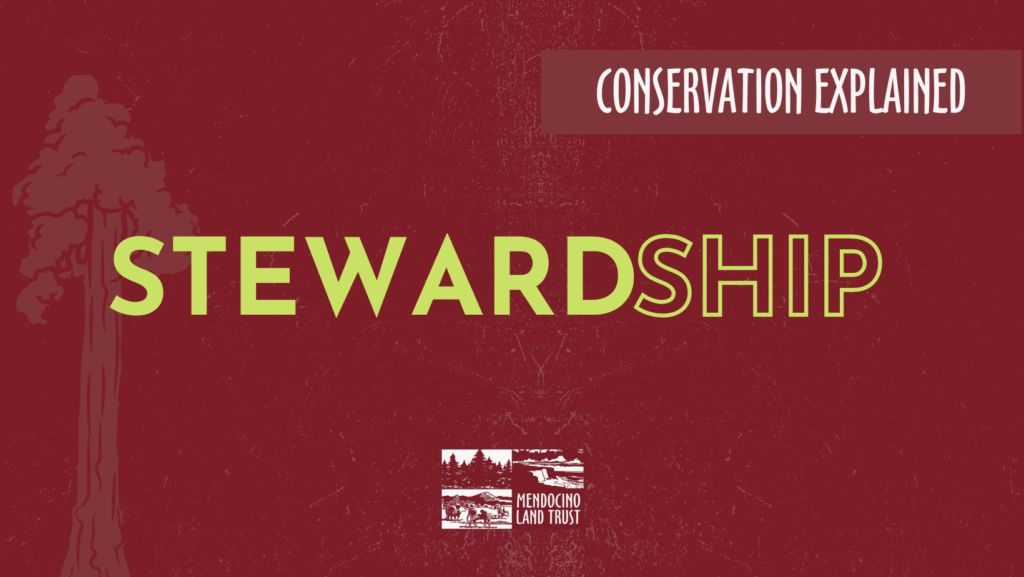 by Sage Andersen, MLT's Outreach and Communications Manager
What is Conservation is another in our occasional series on issues in conservation, Conservation Explained. Let's talk about what our stewardship of the land actually looks like.
Merriam-Webster says that stewardship is "the conducting, supervising, or managing of something; especially : the careful and responsible management of something entrusted to one's care." That definition is in the ballpark of what we mean here at Mendocino Land Trust when we talk about stewardship. But it doesn't quite do justice to the sheer scope of the work our stewardship team does.
So, I asked the MLT stewardship team what they thought it meant. It turns out, doing stewardship takes many forms. Here's what they told me.
1) Stewardship of existing conservation easements:
We monitor each of our conservation easement properties annually. During that monitoring, we make sure all elements of conservation easements are being complied with. To do this, it is imperative we build relationships with landowners. We also document changes on the conserved properties due to storms, changes in erosion, changes in working forests, etc.
2) Stewardship of lands with public access
We make sure trails are safe to travel and do maintenance like weed-eating and pruning. We remove hazardous trees, fix fences and pick up trash. We protect local ecosystems, especially by removing invasive species, and make sure trails are accessible. While we do a lot of this work ourselves, we also work with volunteer groups that share the environmental stewardship work of our trails and preserves.
3) Working with partner organizations
Another aspect of our stewardship work is partnering with other organizations to do restoration on their property. We've worked closely with Jackson Demonstration State Forest to secure funding for salmon habitat restoration, road decommissioning, removal of salmon migration barriers, and project design. We've also done some of this work at our Noyo River Redwoods property. If a Wildlife Conservation Board grant comes through, we'll work with California State Parks and the Bureau of Land Management on pollinator habitat restoration. We also work with those organizations to prioritize new projects on lands where we can open public access for all folks to enjoy the beauty of a new environment.
Phew! That's a lot of work. Our hats off to our little team of stewards, both staff and volunteers; thank goodness the summer interns are coming. We have work to do!