third Saturday in September
A yearly event for the community to work together to keep Mendocino County creeks, rivers, beaches and ocean trash-free and safe for people and wildlife.
Details about 2022 cleanup sites in Mendocino County will be posted in summer 2022. If you would like to host a site or have questions about how you can get involved please email info@mendocinolandtrust.org. Please mark the day on your calendar and plan to join us and lend a hand to "protect your happy place."
General Coastal Cleanup Day info from the California Coastal Commission can be found here: coastalcleanupday.org
MLT's Role in coastal cleanup day
Mendocino Land Trust has served as the County coordinator for the annual state-wide Coastal Cleanup Day since 2002. Each year, more and more people come together to join in this effort. We now have 17 years of data about our cleanup efforts. During this time, 5,000 volunteers have removed almost 60,000 pounds of trash and 9,000 pounds of recyclables! The Mendocino Land Trust is proud to coordinate sites for Mendocino County and grateful to our partnering organizations and individuals who host cleanup sites year after year.
2021 coastal cleanup day summary
In 2021, there were 35 coastal cleanup sites in Mendocino County. Even though it was pouring rain the day of the event, 287 volunteers removed 3,667 POUNDS of trash/recyclables from Mendocino County beaches, creeks and rivers! If you are interested in participating on the third Saturday in September this year, please email info@mendocinolandtrust.org. We are always looking for new site captains, especially those interested in organizing a cleanup site along a river or creek. The Mendocino Land Trust would like to extend big thanks to MendoRecycle for providing a grant to help cover staff time spent coordinating this event and Waste Management's Fort Bragg office for facilitating dumpster donation!
Please enjoy these photos from 2021: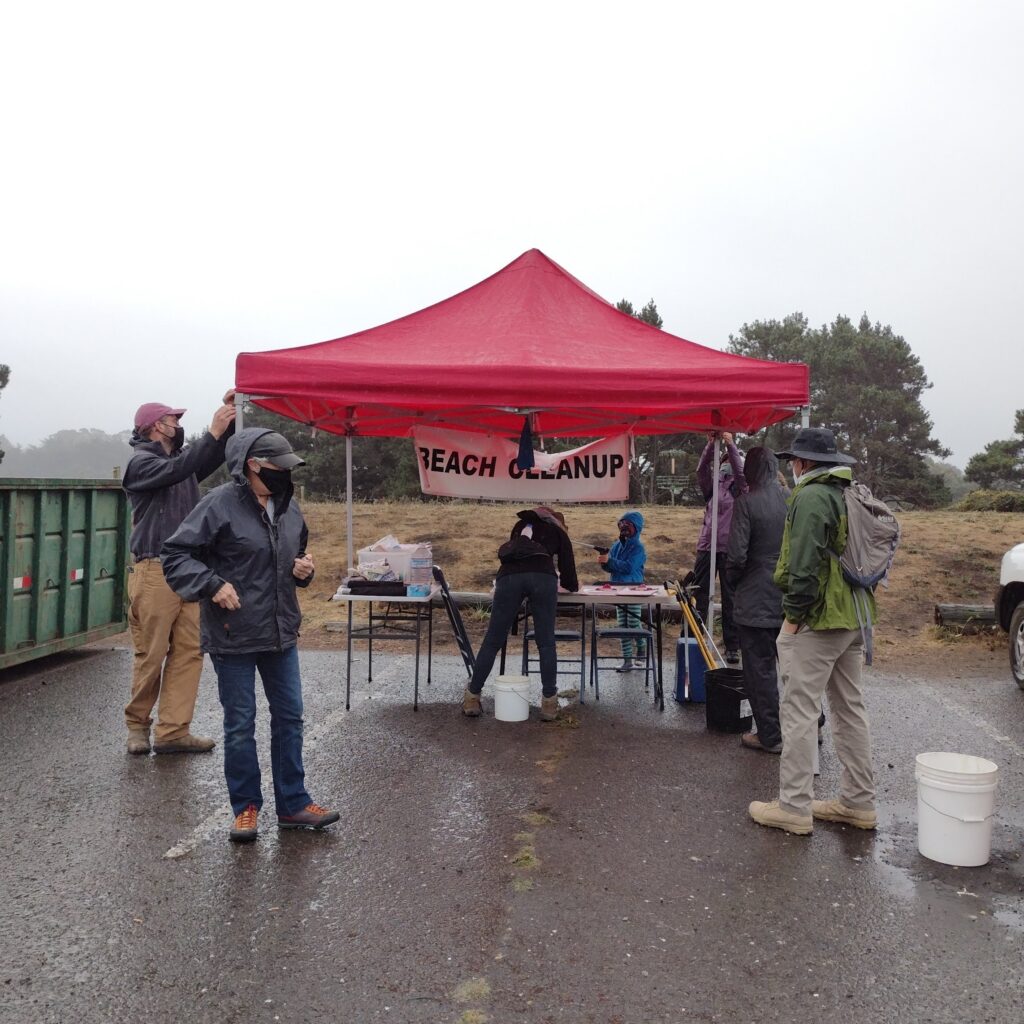 2021 sites and partnering organizations:
Busy on Saturday? One group has opted to do their cleanup on Monday… join them then if you would like.
Additionally, big THANKS to school groups planning their own cleanup events in celebration of Coastal Cleanup Day! (Participation in these events is limited to those invited by the organizing school group)
Fort Bragg Middle School cleans up Pudding Creek Beach
Teacher Erin Brazill and TLC students from FBUSD clean up Westport Beaches
Pacific Community Charter School take on Moat Creek Beach, the Stornetta Lands and more
Find out more at coastalcleanupday.org and watch for all the details in our September newsletter!