Coastal Cleanup Day 2021
August 4, 2021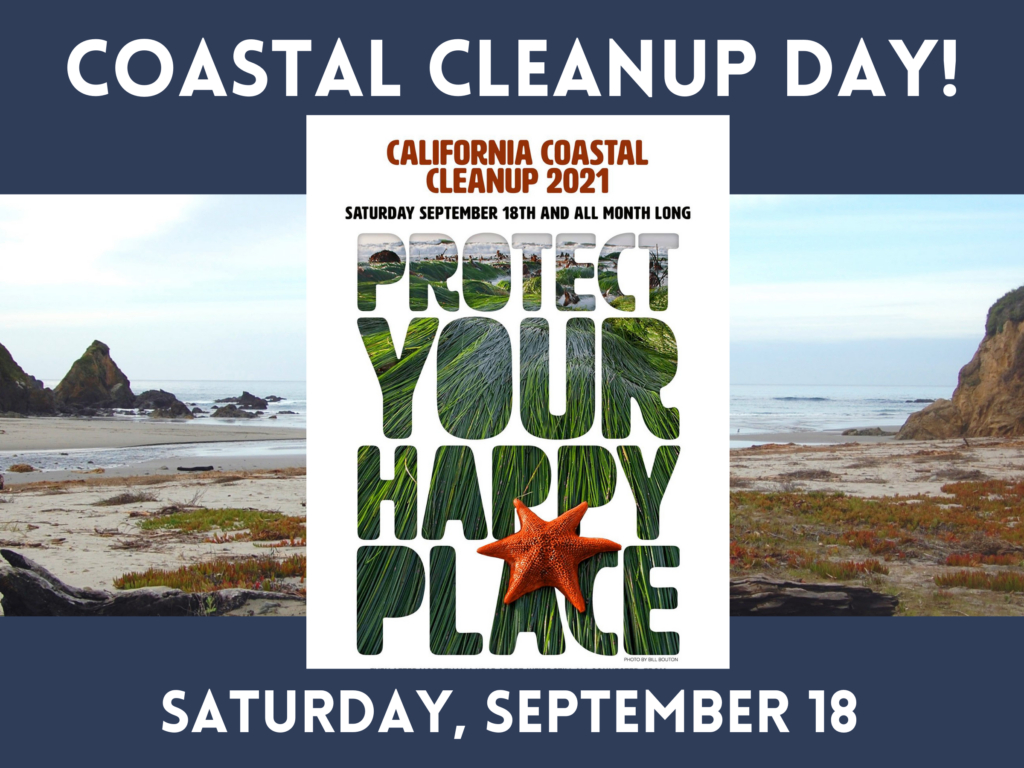 Please mark September 18 on your calendar and come out and lend a hand to "protect your happy place."
Mendocino County residents and visitors are invited to join the Mendocino Land Trust and partnering organizations for Coastal Cleanup Day on Saturday, September 18. Participants can choose from 15 sites where organizers will equip them with supplies, data cards and directions about how they can help with this statewide effort.
After last year's Coastal Cleanup effort, a student at Pacific Community Charter School had this to say: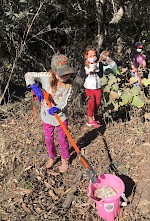 It is important not to litter because the garbage gets blown away into the ocean and the sea creatures think it is food. Trash makes the world look messy. I would try to get people to see how they would feel if someone put a bunch of garbage in their yard, because nature is everyone's yard.

Cian, second-grader
Cian is correct. Nature is everyone's yard AND habitat for a variety of wildlife that can be negatively affected by human carelessness. In addition to the important task of removing litter from beaches and rivers, Coastal Cleanup Day also provides an opportunity to collect data on the prevalence of litter and plastics on our coast and in our waterways.
Coastal Cleanup Day is a statewide event organized by the California Coastal Commission. It has been held yearly since 1985. In 1993, California Coastal Cleanup Day was recognized by the Guinness Book of World Records as the "largest garbage collection" ever organized, with 50,405 volunteers, according to the Coastal Commission.
The Mendocino Land Trust has been the Mendocino County Coordinator of this important event since 2002. "Coastal Cleanup Day is the perfect reminder, every year, that many hands make light work," says Megan Smithyman, Mendocino Land Trust board member. "Cleaning up an entire beach on one's own can be daunting, but going out there with dozens of people is proof that there are so many people who care about our environment."
David Duncan of the Mendocino County chapter of the Surfrider Foundation says every year he is struck by the wonderful feeling of community and friendship the beach cleanup provides. David and his wife Diane coordinate a cleanup at MacKerricher State Park, with participants meeting at the end of Ward Avenue.
Elizabeth Cameron of MendoParks says Coastal Cleanup Day is important because "we all need to be active participants in caring for this beautiful planet we all call HOME." This year Cameron is hosting a cleanup at Big River Beach on behalf of MendoParks. She says, "As the leading nonprofit supporting State Parks in Mendocino County, we have a longstanding relationship with supporting efforts to ensure stewardship of the coast since our establishment in 1984." She adds, "The Sonoma Mendocino Coast District encompasses more coastline than any other district in the state."
When asked what else people can do to keep the California coast clean and healthy, Cameron replies, "I like to think in terms of large and small ways to make a difference. Pack a small trash bag to pick up rubbish during your visit to the coast. Get involved in advocacy efforts: Attend your local Board of Supervisors and Water Board meetings, and stay in the loop with California Coastal Commission meetings and issues."
DIY cleanups in neighborhoods are strongly encouraged, especially for those who want to help but prefer to avoid groups at this time. Trash and litter seen in neighborhoods and city streets has a high likelihood of making it into waterways and oceans if it is not removed. When it rains, trash is washed down storm drains that feed into creeks and rivers. As the water flows to the ocean, it can bring our trash with it. Inland trash removal is key to keeping our coasts and beaches clean and improving the health of all waterways. Those who do DIY cleanups are encouraged to document their efforts by downloading and using the CleanSwell App or submitting a data card, available at coastalcleanupday.org.
A "complaint" from participants at some beaches is that there is not enough trash to pick up. It is important to remember that even when few items of litter are found, documenting the scarcity of trash is an important and quantifiable measure of the community's successes in curtailing litter year round.