Coastal Cleanup Day 2018
October 8, 2018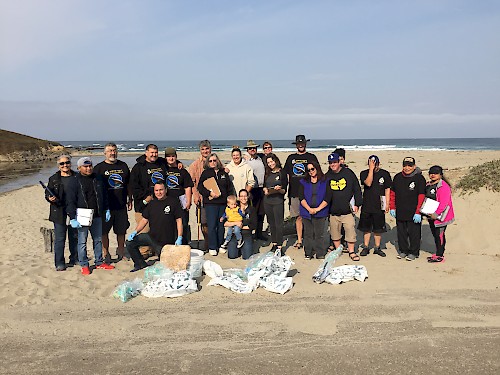 On Coastal Cleanup Day, Saturday September 15, about 200 volunteers removed over 1100 pounds of garbage and 150 pounds of recyclables from over a dozen beaches along the Mendocino Coast. Above, a great crew from North Coast Brewing Company cleaned up Virgin Creek Beach.
Below, 22 volunteers from the Traditional Small Craft Association took to their kayaks and removed 600 pounds of debris from the Noyo Harbor. The kayakers at Noyo Harbor once again collected huge pieces of foam chunks from old docks.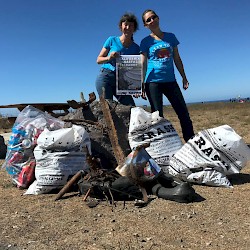 Above, the City of Fort Bragg joined Coastal Cleanup Day this year by adopting Glass Beach. The Noyo Center for Marine Science also orchestrated 24 volunteers, including kids, to help collect over 250 of trash from the Noyo Harbor Beach.
Favorite find of of the day was a tiny plastic pig. An important reminder to everyone enjoying our beaches: be sure to collect all your belongings before you leave or you might be one pig short!
A special thanks to our business partner, Waste Management for the generous donation of dumpsters for the event. Thanks also to Mendocino County Waste Management Authority for providing a small grant to help defray our organizing costs.