Coastal Cleanup Day 2016
September 20, 2016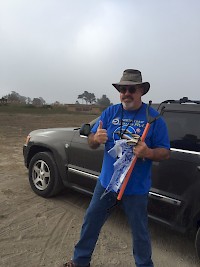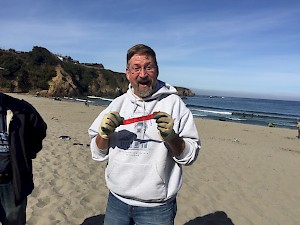 The mid-September morning fog was just starting to lift as Joe Seta of North Coast Brewing called out to his crew of volunteers. There were about twenty people at Virgin Creek parking area, already starting to pick up trash and getting ready to participate in this year's Coastal Cleanup Day. 
"North Coast Brewing is a part of the community," Joe says, when asked about joining the event last year "we support the environment and stewardship and we wanted to get involved."
This was the second year that North Coast Brewing has captained Virgin creek, a beach in MacKerricher State Park that is biking distance from the brewery. Gloves on and buckets in hand, the volunteers were decked out in blue 'Stellar IPA' shirts, which is a benefit beer that supports the Noyo Science Center. Clearly, here was a group of people ready and willing to lend a hand and help take care for our oceans.
There are many beach cleanups held throughout the year, but International Coastal Cleanup Day is different than the rest. For over 30 years, the Ocean Conservancy has organized volunteers from all over the planet in a day of action to not only remove trash from our beaches, but also to document and inventory the garbage that is collected. When you see volunteers out on Coastal Cleanup Day, they are usually working in groups or in pairs as one picks up the trash while the other records what has been collected. This extra effort may deter some, but our volunteers know it makes a big difference. 
"Sure, it's an extra step," says Scott Vorhees with the Coastal Mendocino Association of Realtors (CMAR) at Caspar beach "but how else will we know what bad habits we need to change unless we record the type of garbage we find?"
Documenting the debris collected on Coastal Cleanup Day also helps us to see improving trends and understand if actions like the plastic bag and plastic water bottle bans are making a difference. Beach captains from Westport to Gualala report finding less and less garbage each year, which is good news for our beaches. Cigarette butts continue to be one of the worst offenders. Smokers often don't think twice before flicking them away, but those little plastic butts are full of toxins that quickly leach into the water, making them dangerous to wildlife and the environment.
At the end of the day, over 300 volunteers from across Mendocino County collected 5,300 pounds of garbage, 350 pounds of recycling, and well over 3,000 cigarette butts!
For over 10 years it has been the pleasure of the Mendocino Land Trust to organize Coastal Cleanup Day for our community. All of this good work would not be possible without the help and support of Waste Management, Mendocino Solid Waste Management Authority, California State Parks, and of course our amazing volunteers and beach captains. Together, we're keeping Mendocino County beautiful.