Beaches, Bucket Lists, and Accessibility
August 31, 2022
Mendocino Resident and frequent MLT Outdoor Social Club participant has written a guest post about beaches, declining mobility, and bucket lists. We hope you enjoy this short read. Make sure to watch the video at the bottom of Leslie taking a beach wheelchair for a test drive at Seaside Beach. Thank you Leslie for sharing your story! Learn more about Leslie and listen to her excellent podcast at glasshalffull.online
Do you have a story to share? Email info@mendocinolandtrust.org to submit it for inclusion on our website.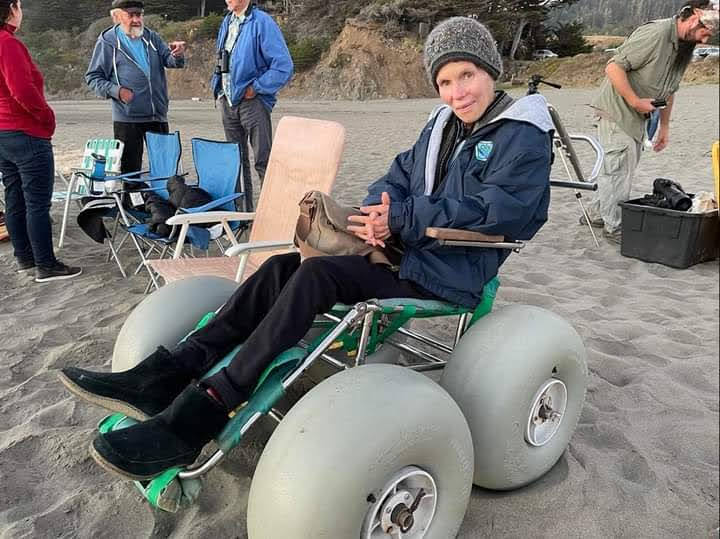 Leslie writes…
Growing up in South Florida I had the luxury of visiting the beach regularly. I remember my father coming home from work and my parents and I would hit the beach in the latter hours of a summer day. I'd sit on the sand, legs spread out with the water shimmering around me, and daydream. Lots of daydreaming.
I've never lived too far from the beach – East or West Coast. But the one thing that I didn't have, and it was on my very short bucket list, is to wake up and see the ocean. Effortless.
Effort has become a key word for me lately. I have a rare genetic neuromuscular disease called myotonic dystrophy. It's progressive and since my diagnosis I've made adaptations based on my new normal. It takes an effort to eat, to breathe, and now to walk.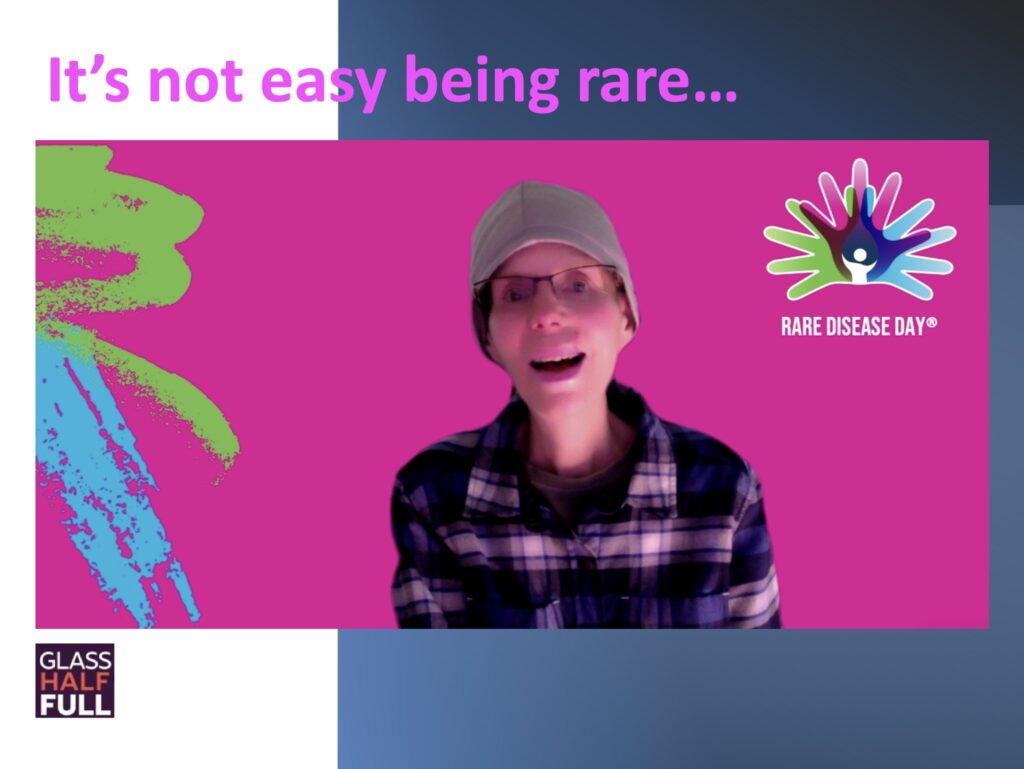 During COVID, while living in Alameda, we naturally didn't travel. We'd take a daily walk around the neighborhood. Our love of nature intensified. When we knew it was okay to be outdoors around people, we made a trip to Ocean Beach in San Francisco.
Access to the beach was difficult, and I couldn't handle the steps leading from the pavement down to the sand. We eventually found a concrete ramp. I slowly made it to the shore and reveled in the intoxicating sights and sounds. We realized my mobility was declining and either we do a massive remodel of our 1920s Tudor home or move to a modern house with an open layout.
Considering my bucket list, we decided to move to the Mendocino Coast. I now wake up and see a bit of the ocean landscape. Shortly after we moved, I had an unfortunate fall and recognized it was no longer safe for me to walk outside. I now use a walker or power wheelchair. They're great but they can't handle a sandy beach.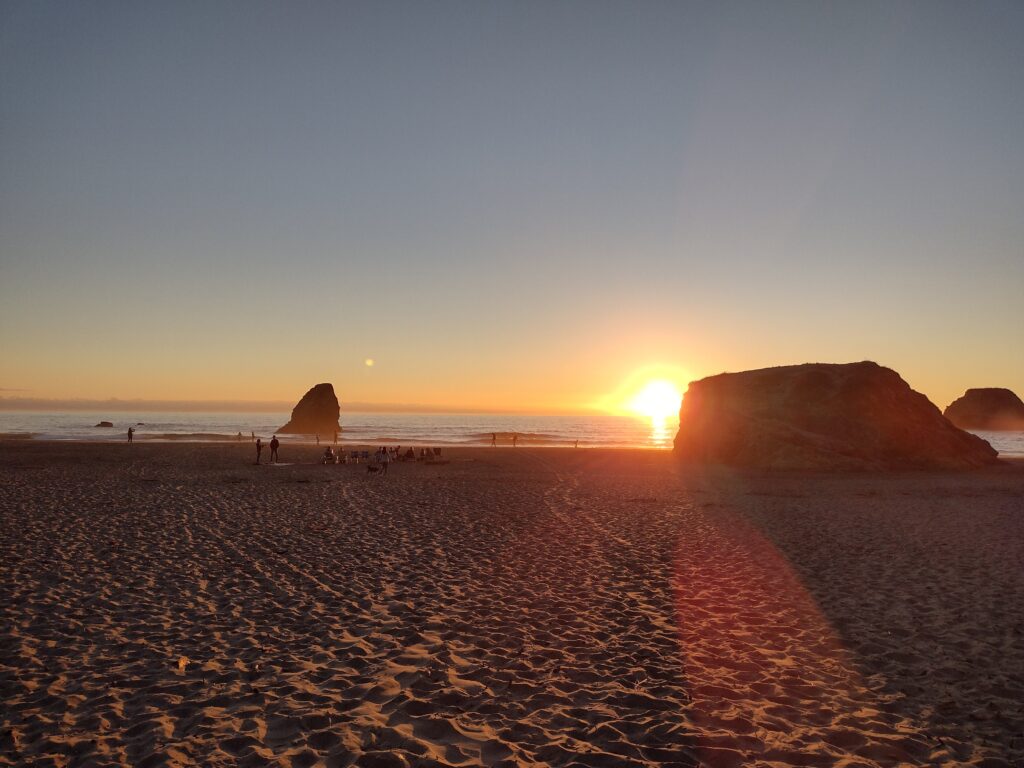 I've been on a crusade to identify all accessible nature trails. And that's how I discovered the Mendocino Land Trust. Their monthly Outdoor Social Club has introduced me to new public lands, butterflies, nature journaling, night skies, and most recently a beach wheelchair! I'm forever grateful to MLT Outreach Coordinator Amy Wolitzer for making that effort to borrow a beach wheelchair so I could fully participate in the August event at Seaside Beach.
Photos from our MLT Outdoor Social Club event at Seaside Beach. MLT Outdoor Social Club events are free and open to all who would like to participate. These events allow the community to celebrate what conservation has accomplished locally and giving people a chance to connect to the land in a variety of ways. Questions about accessibility? Have an idea for an event? Let's talk! Send an email to info@mendocinolandtrust.org or give our office a call at (707) 962 0470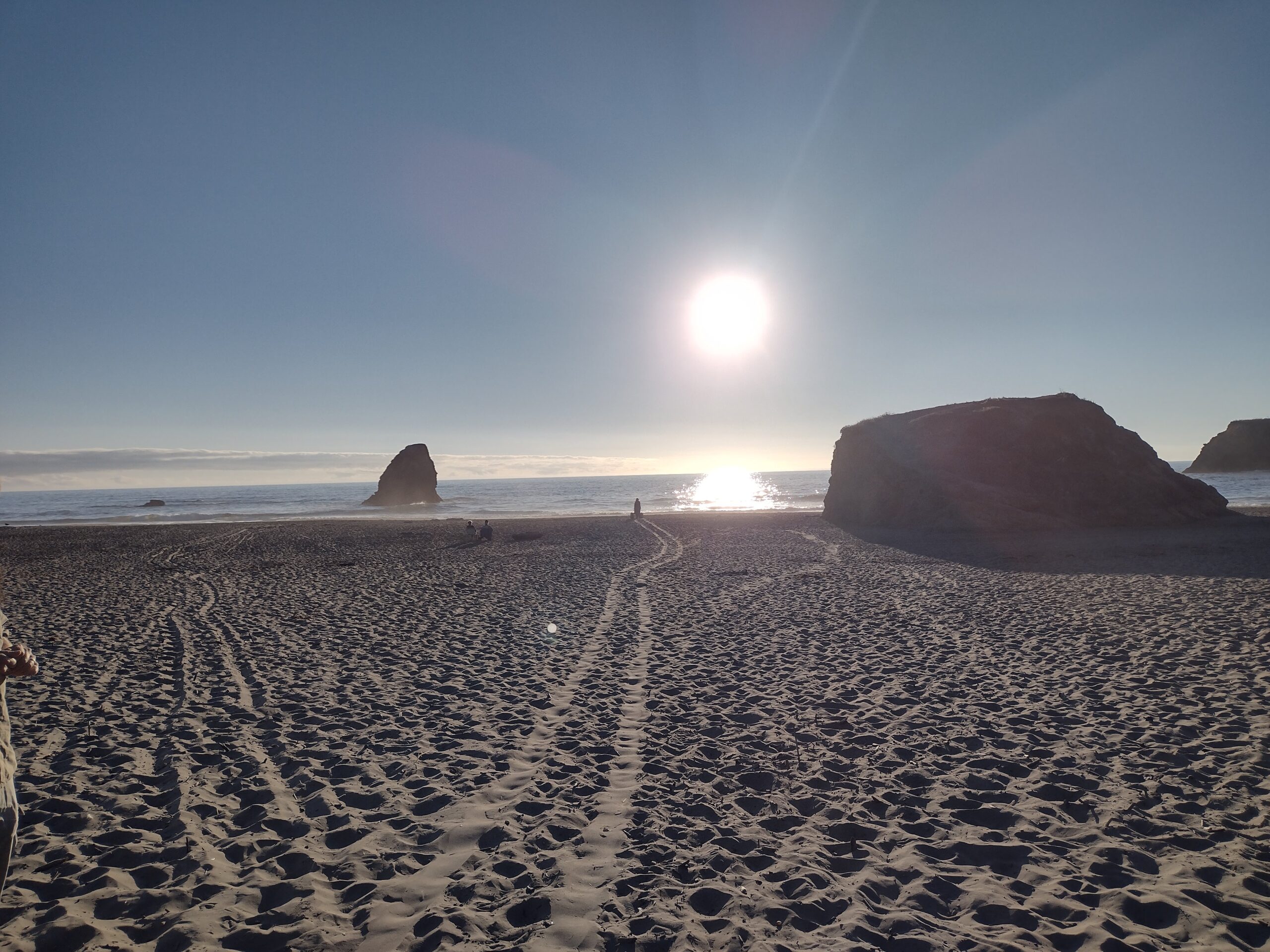 Check out the MLT events page for upcoming events.
Borrowing a beach wheelchair
A beach wheelchair, free of charge, is available upon request for use at California State Park beaches in the Mendocino coast area. Call (707) 937-5721 at least 7 days in advance to reserve the beach wheelchair. Please note the wheelchair does not fold up and you will need a truck or SUV to transport the wheelchair from the kiosk or Visitor Center to the beach. (State Parks may be able to deliver the chair to a parking area upon request.)