A Diamond in the Rough
May 12, 2021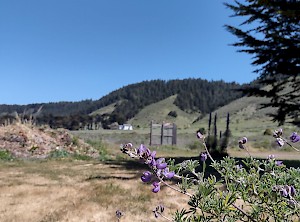 Near the Greenwood Community Center in the small town of Elk is a diamond in the rough — literally a baseball diamond, overgrown and under-used. Where one would expect to hear the voices and laughter of children, the field sits empty and the grass grows tall. Beyond the diamond is open space — it is so much more than a vacant lot! On a day in late April, birds were singing, wildflowers were blooming, and bees were busy at work. Shy rabbits seemed unaccustomed to human presence and ran for cover under an old forgotten burn pile as Mendocino Land Trust staff walked the property. Barn swallows seemed undisturbed as they zoomed through the air over the brush, gobbling up insects in flight. Although we didn't see any that day, locals report occasionally seeing elk in that field or on the hills above.
This well-located parcel has long been private property, but the Mendocino Land Trust is working with the landowners, Kirk Handley and Bruce Wolfe, and the Elk Community Services District (ECSD) to transfer the property from private to public ownership. A generous donor, who wishes to remain anonymous, has provided major funding to get this project off the ground, but additional funding will be needed to complete it.
The baseball field is known as Sinclair field and normally hosts the Pepper Martin softball game each May. Bill Edison, a fixture of the Elk community for many years, started this annual tradition many years ago as a fundraiser for the Greenwood School. Pepper Martin was Edison's favorite ballplayer – a fiery character who played for the St. Louis Cardinals in the 1930s. A plaque on the backstop honors Edison, who passed in 2017. According to Miranda Edison, Bill's daughter, the plaque was made by the first kids he ever taught in the 1960s. They and future students adored him and he adored them. The Pepper Martin day tradition has been on hold during the pandemic, but community members hope it will be back next year – and with a little luck, for the first time the event will be on official ECSD property!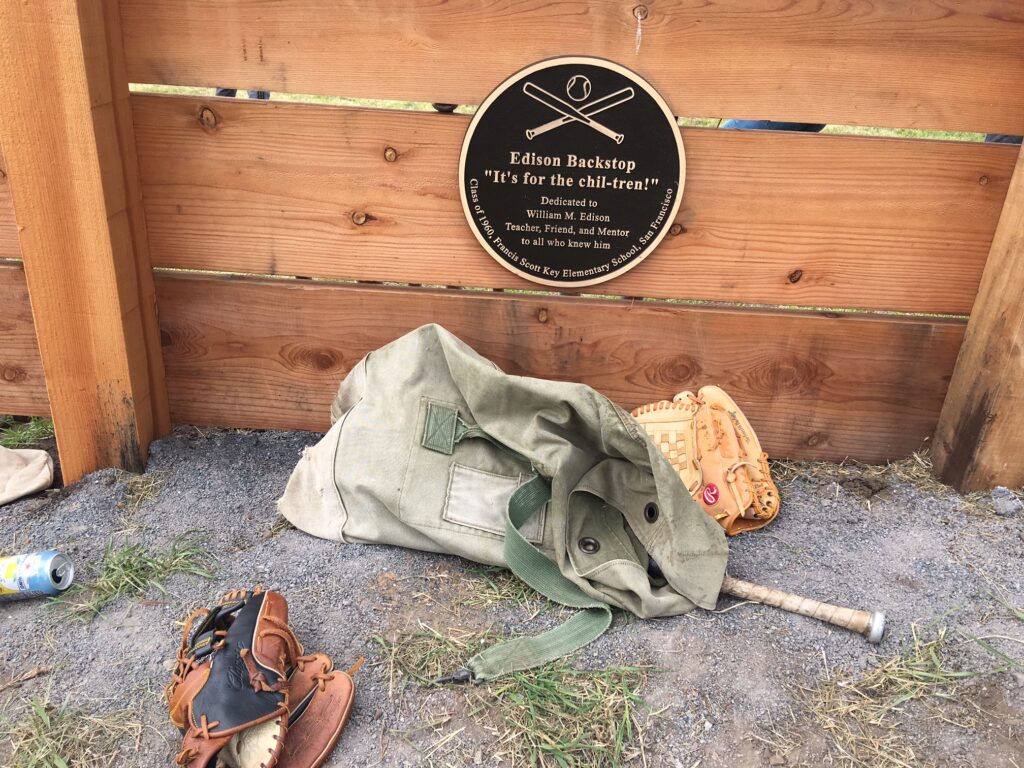 Local columnist Kristi Hahn wrote about this exciting venture in the Mendocino Beacon in late April. She included a statement from Ben MacMillan, Elk Community Services District Board President:
"Twenty acres of beautiful hillside above Elk are in escrow. The Elk Community Services District, with major help and guidance from the Mendocino Land Trust, has signed an agreement to purchase this property for the benefit of our community. The owner, Li Foo Alliance, LLC. has deliberately chosen to help preserve this property by agreeing to sell it to the ECSD."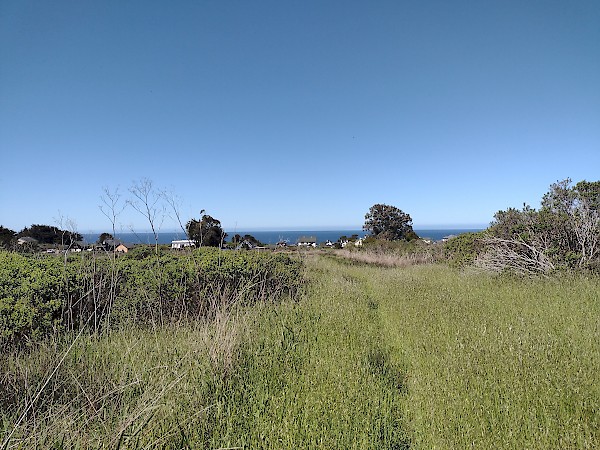 Hahn writes that she also remembers the field being used as a kiting area by Charlie and Steve Acker with their rainbow stunt kites. She continues: "Of course, it is most famous as the home of Pepper Martin softball, and now this purchase will ensure that Pepper Martin will play on for generations to come!"
While there are still a few hoops to jump through and papers to sign before the sale is finalized, the Mendocino Land Trust is thrilled to help bring this community project to fruition. We look forward to seeing this diamond shine — and old traditions continue and new traditions form — once the property, with all its beauty, is publicly owned.