2021 Coastal Cleanup is a Wet Success!
September 19, 2021
Mendocino Land Trust Conservation Manager Nicolet Houtz says in the eight years she has participated in Coastal Cleanup Day she has never been so wet and muddy — or had such an enthusiastic group of volunteers. The 20 or so volunteers that dedicated the rainy morning of September 18 to picking up trash at Hare Creek Preserve included several members of the Fort Bragg Rotary and three of their young counterparts from the Fort Bragg High School Interact Club. A handful of retired folks and a mom and two kids rounded out the hard-working crew.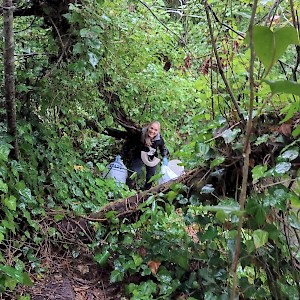 These volunteers hauled 1,389 pounds of trash out of the area between the Hare Creek Bridge and Babcock Beach. The found treasures among the trash – potential contenders for the "Most Unusual Item" contest put on by the Coastal Commission (who organizes Coastal Cleanup Day as a statewide event). These unusual items from this site included a polar bear snow globe, an iron, a wig, a gender reveal popper and a very old metal cleat from a ship (perhaps the Frolic?!).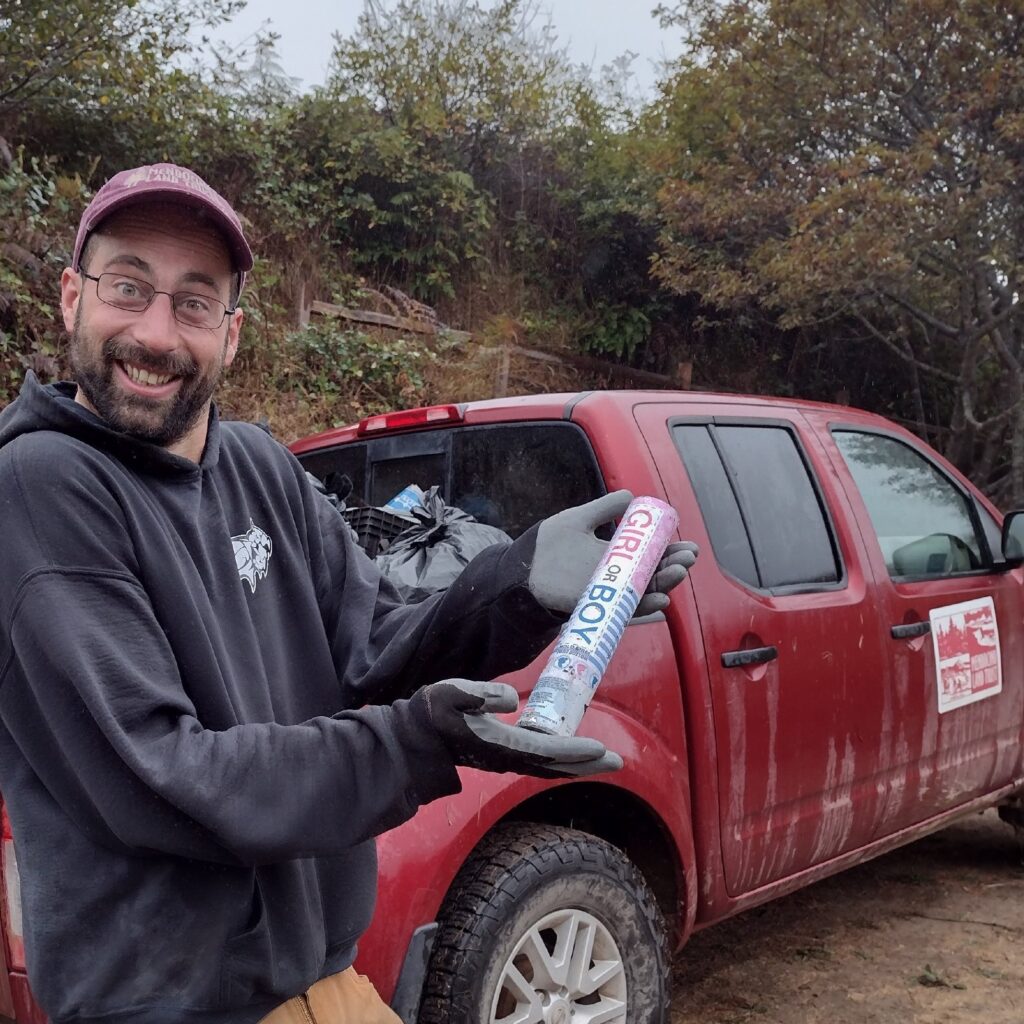 Mendocino County makes a huge effort to celebrate Coastal Cleanup Day. This year, there were 35 coastal cleanup sites in Mendocino County. Mendocino Land Trust has served as the countywide coordinator for this event since 2002. Various organizations and individuals host 17 sites on the coast and the Mendocino County Resource Conservation District organizes Ukiah area volunteers to do cleanups at 15 sites along the Russian River. As of October 4, data from site captains indicate that countywide, 287 volunteers removed 3,667 POUNDS of trash/recyclables from Mendocino County beaches, creeks and rivers!
Todd Orenick of Pacific Community Charter School was first to report data. The K-12 school did their cleanup on Friday and Orenick was excited to share their findings. The long-time teacher at the Point Arena based charter school says the cleanup is the culmination of a week-long study about ocean pollution and a jumping off point for all kinds of discussions. Orenick and his students carefully count and catalog the items they find to provide important data to the Ocean Conservancy. He was happy to report that on Friday that PCCS students found 93 cigarette butts along their cleanup route which includes Moat Creek Beach and a park in Point Arena. While 93 is a large number for younger students to count, Orenick reports that they routinely found 800 or more cigarette butts when they started doing these cleanups more than a decade ago. He hopes this is indicative of downward trends of both cigarette smoking and careless littering – both habitats he hopes his students will avoid after the formative experiences they have during Coastal Cleanup Day.
Jeff Laxier and Cate Hawthorne of Liquid Fusion Kayaking took to the water, leading a trash-fighting armada of 13 kayaks and one small craft from their marina in Noyo Harbor to the bridge and back again. Jerry, a seasoned coastal cleanup kayaker was dubbed the "barge man", towing a barge that would return with a total of 500 pounds of trash, filling a dumpster donated by the Fort Bragg Waste Management office. Hawthorne remarked "It was so refreshing to find less single-use plastic this year. Very few plastic bags. Of course, some beverage bottles but not nearly as many of the plastic cups and food containers we found in the past." On a less positive note, she was saddened by the yards and yards of tangled fishing line they retrieved. Fishing line can cause all kinds of problems for birds, marine mammals and other ocean life.
Photos provided by Liquid Fusion Kayaking
Meanwhile, the local Surfrider Chapter met at Mackerricher State Park by Ward Avenue and had to hunt for microtrash. They were pleased to greet two van loads of teens from the Willits High School PeaceWorks! Environmental Club. Diane Duncan who has captained that site for many years with her son and husband said "I felt almost bad that there wasn't more trash for them to pick up! But really this shows people are taking very good care of the beaches at MacKerricher so we should feel good about that."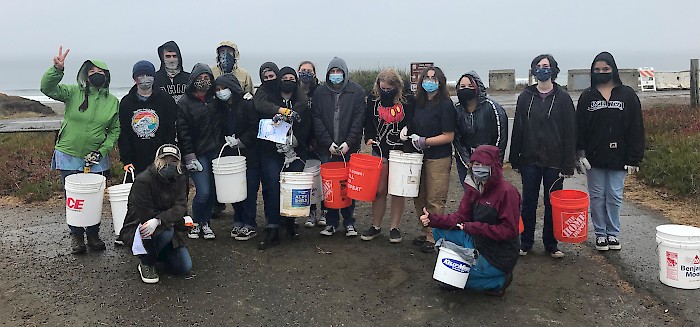 2021 marks the 18th year that the Mendocino Land Trust served as the County Coordinator for Coastal Cleanup Day. "We are so pleased at the level of commitment people in our community have for Coastal Cleanup Day. Some site captains have been organizing for decades and many participate every single year." says Amy Wolitzer, the Outreach Coordinator for Mendocino Land Trust. She continues "When we found out rain was predicted we were nervous people were going to want to cancel but everyone was committed to hosting their cleanups rain or shine and removing as much trash as they could before winter storms can wash it out to sea. And there were many volunteers from the community who were eager to help."
Site captains for 2021 included: Mendocino Land Trust staff and board, Art Morley of the Mendocino Coast Audobon, Diane and David Duncan of the Mendocino County chapter of Surfrider Foundation, Chantell O'Neil from the City of Fort Bragg, Joe Seta of North Coast Brewing Company, Esme Plascencia of Latino Outdoors North Coast Chapter, Jeff Laxier and Cate Hawthorne of Liquid Fusion Kayaking, Lesli Langslet of the Coastal Mendocino Association of Realtors, Elizabeth Cameron of MendoParks, Trey Petrey of the Noyo Center, Paul Anderson and City of Point Arena, Cheryl Harris and Joel Chaban of the Redwood Coast Land Conservancy, Richard Hubacek of the Little River Environmental Action Group (LEAG) and Deborah Endelman of the Mendocino County Resource Conservation District. Big thanks to three school groups that hosted their own Coastal Cleanups: Richard Becker and Fort Bragg Middle School, Todd Orenick and Pacific Coast Charter School, and Erin Brazill of Fort Bragg's TLC program. Big thanks to Fort Bragg Rotary, Fort Bragg High School Interact Club and Willits High School PeaceWorks! Environmental Club for sending out serious muscle!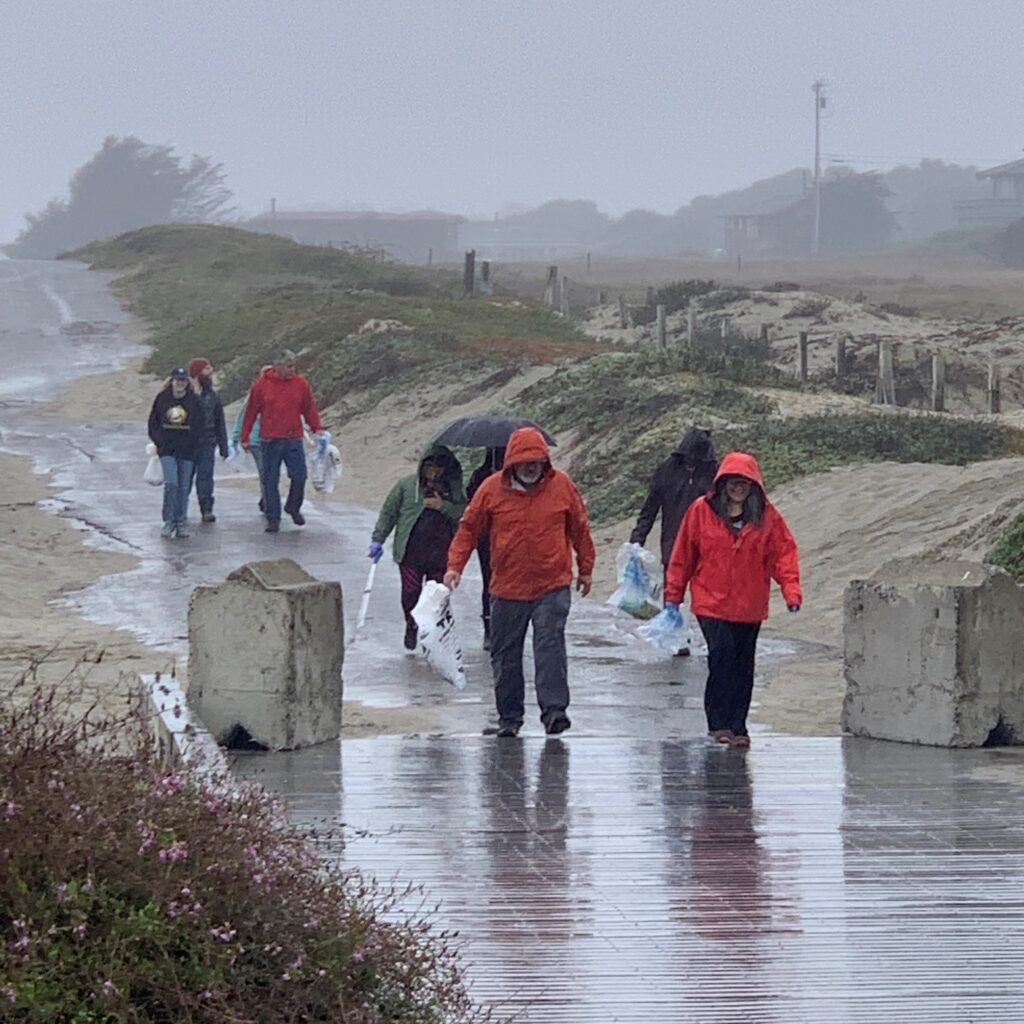 Coastal Cleanup Day happens the third Saturday of every September, rain or shine! If you are interested in being a site captain next year, please email info@mendocinolandtrust.org or call the Mendocino Land Trust office at (707) 962-0470.